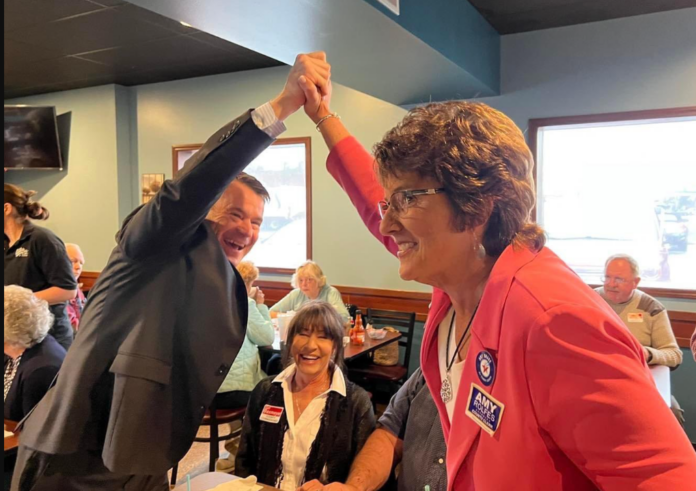 By David Slone
Times-Union
WARSAW — One year after the tragic vehicle accident that claimed the lives of U.S. Congresswoman Jackie Walorski and three others, Walorski's friends and colleagues are still in disbelief over her passing.
They recall her as a force to be reckoned with, but also remember her faith, her optimism and her desire to want to help people.
On Aug. 3, 2022, Walorski, 58, was one of two passengers in a Toyota RAV4, driven by Zach Potts, 27, one of her staffers, going north on Ind. 19 in Elkhart County when the vehicle crossed over the center line to try to pass a slower-moving vehicle and hit a Buick LeSabre, driven by Nappanee native Edith Schmucker, 56, traveling south.
Walorski, Potts, Schmucker and Emma Thomson, 28, Walorski's communication director, were killed in the two-vehicle collision. Potts also was the St. Joseph County Republican Party chairman.
Walorski, representing Indiana's 2nd Congressional District, and her two staffers had just been at a ribbon-cutting ceremony at Louis Dreyfus in Claypool.
In statement on the anniversary of Walorski's passing, Indiana Gov. Eric Holcomb said, "One year later and the magnitude of her absence is still felt daily. Congresswoman Jackie Walorski was a force to reckon with and a fearless fighter for her Hoosier neighbors in northern Indiana. She was devoted to helping those in need, standing up for our veterans and committed to securing Indiana's bright future of opportunity. I loved her optimism and will forever carry it close. We will continue to keep her legacy alive by standing up for what's right, building a stronger community and continuing to serve one another, just as Jackie did every day."
Rudy Yakym won the Republican caucus and then the general election in November to fill out the remainder of Walorski's term and serve the next two years as the 2nd District's representative to the U.S. House.
In a statement, Yakym wrote, "One year has now passed since we tragically lost Jackie Walorski, along with Emma Thomson, Zach Potts and Edith Schmucker. It has been said that 'grief is the price we pay for love.' Although time helps heal some of the anguish, Jackie's death left a giant hole in the Second District community that cannot easily be filled.

"Today's solemn anniversary is especially personal for me because Jackie Walorski was not only once my boss, she was also a dear friend. And she was someone who exemplified what servant leadership should look like."
"There are so many lives that Jackie touched and shaped for the better, both here in the Second District and in our nation's capital. She was a fierce advocate for the Second District, including our farmers, our veterans, the RV and medical device industries, and those working in small business. And while Jackie had strong confidence in her convictions, she also always looked for ways to find common ground with those of differing political beliefs in order to make our region a better place to live, work, and raise a family," he said.

"At the heart of Jackie's passion for public service was her strong Christian faith. Jackie's faith is what compelled her and Dean to move to Romania to serve as Christian missionaries and provide medical supplies to impoverished children. And it's what drove her to devote her energy to causes like ending childhood hunger and malnutrition, both here in America and around the world.
"So for me, today is about remembrance for the lives we lost a year ago and giving gratitude for our own. And it's a reminder that the best way to honor Jackie's memory is by following her example of serving others along with causes greater than ourselves. May God bless Jackie Walorski, Emma Thomson, Zach Potts and Edith Schmucker," Yakym stated.
Sen. Todd Young said, "Jackie's death still stings. Her House colleagues and I continue to miss her energy, wit, wisdom, and leadership. My heart still goes out to her family, and the families of the other individuals killed in that tragic accident."
Mike Braun, U.S. senator, stated, "Jackie Walorski truly believed in serving the public. She lived that service every day whether in D.C. or in her northern Indiana district she loved so much. She was guided by her faith and you could always tell that she was someone who had principles that were not up for debate. Jackie was one of the first people I met on the campaign trail when I decided to leave my business and run for Senate. It was an honor to get to know her during our four years serving together in Congress.
"The Jackie Walorski you saw in public was the same one you saw on television: tenacious and hard-working, and yet a friend to everyone she met. Hoosiers will always remember Jackie as a great public servant and a strong voice for her constituents in the 2nd district, and our state will always be better because she gave so much of her life to serving it.
"As we honor Jackie's memory on this anniversary, please also keep the families of Zach Potts, Emma Thomson and Edith Schmucker in your prayers. One year without those Hoosiers we lost in this tragedy is a painful anniversary, but it is also a reminder of the positive impact each of them made on the lives of others," Braun said.
Third District Congressman Jim Banks stated, "Jackie spent her life serving others and was a tireless advocate for Hoosier families and veterans. It was an honor to serve as her colleague in Congress, and she is greatly missed."
Indiana state Rep. Craig Snow (R-Warsaw) offered the following statement: "Jackie was truly an amazing person, friend and legislator. I had known her personally for a while, even before I got into politics. In fact, she encouraged me to run for office, like she did for so many others who she believed in. Jackie was full of passion and persistence, especially when it came to serving her constituents and state. Her dedication to her faith, family and country continues to inspire me. As we reflect on this past year, and the loss of her life and the lives of Zachery, Emma and Edith, I continue to offer my support to their loved ones and pray for healing."
Indiana Sen. Ryan Mishler said in a telephone call that he and Walorski were elected together in 2004, her to the Indiana House and him to the state Senate.
"I got to know her right away. We basically shared the same district and worked on many things together," he said.
When Walorski went to the U.S. Congress, Mishler said their friendship continued. If he needed something at the federal level, he would contact her; and if she needed something at the state level, she would contact him.
A week or two prior to Walorski's accident, she had contacted Mishler to discuss the special session of Congress.
"It's one of those things you'll never forget where you were at," Mishler said of how he heard about the accident. "My son and I were on an excursion we take every year so we were out of the area. I was just standing there when I got the message. I was just devastated. My son grew up with Jackie and he loved Jackie. We were in disbelief."
This past Monday, Mishler said he and his son happened to be at the same place where they were a year ago when they found out Walorski had been killed.
"We're still in disbelief. I deal with death every day, but it affects me as it does everyone else," he said.
Walorski was a true public servant and "she did it for the right reasons. She wanted to help people, just like with her mission work. It's a great loss. We think about her often," Mishler stated.
Kosciusko County Commissioner Brad Jackson said, "Jackie exemplified being a true public servant. She was a friend to many and a fighter for all of our freedoms. You could always expect to be greeted with a smile, a kind word and a hug. I miss her while taking comfort in that because she put her faith in Jesus, she is with him today."
Warsaw Mayor Joe Thallemer said, "It is very difficult to talk about Jackie Walorski without remembering the tragic accident that took her just a year ago. Speaking with her that day was no different than our prior meetings. She displayed the leadership skills that she will always be remembered for. Her thoughtful questions, energetic discussion, and the vitality of her presence were always the norm. Moving on now, one year after her loss, I feel like Jackie would be more interested in acknowledging the importance of the people's business. She would be very proud of the thoughtful leadership her successor has displayed, to carry on her work and build on her legacy as a compassionate leader, person of faith and friend to all."
Mike Ragan, Republican chair for Kosciusko County, knew Walorski and Potts well.
In memory of both of his friends, Ragan recalled, "On August 3, 2022, the Kosciusko County Republican annual golf outing was taking place. While working the event, I got a call from Indianapolis advising that Jackie was in a bad accident on Indiana 19 and that all four occupants in both cars were killed. I was sure Zach Potts would have been driving Jackie. I was stunned. Jackie has not only been an excellent Congresswoman, she was a great friend.
"Soon the news swept through the golf course. Golf carts were racing to the clubhouse from all directions; several players were teary-eyed. For many, the outing was over. A reporter ran across the golf course to find me and get my reaction. I was speechless and couldn't express how I felt.
"Jackie was the first to call me seven years ago to congratulate me for being elected county chair. Jackie never missed a beat. She even brought homemade cookies and sang a birthday greeting to me a couple of years ago. We talked frequently; she was always interested in what was going on in our county. Every year we would walk through the fair just to be able to shake hands and greet people. Everyone was a friend in her eyes, even those she hadn't met yet.
"It was additionally difficult because we lost Zach Potts at the same time. Zach, in 2015, when he first joined the Walorski team, soon became friends with many in our area and was instrumental in helping Young Republican groups in counties throughout the 2nd District. He met with the Kosciusko County group a few days before the accident. We then continued the grief process with Jackie and Zach's funerals and the caucus process to replace Jackie in Congress. Yes, it has been a challenging time for everyone who knew them, respected them, and cared for them. It is a great honor to have known them; they will be missed. I know it will be especially difficult for Jackie's husband, Dean, and the rest of the families that lost loved ones in that horrible accident. I'm sure all Kosciusko County citizens join me in extending our condolences to them.
"We are so grateful that we had a candidate in Rudy Yakym who stepped up and was resoundingly elected to finish her term in Congress. Congressman Yakym has been an outstanding representative for the citizens of the Indiana 2nd District and has continued the legacy that Jackie had worked so hard for her constituents," Ragan concluded.