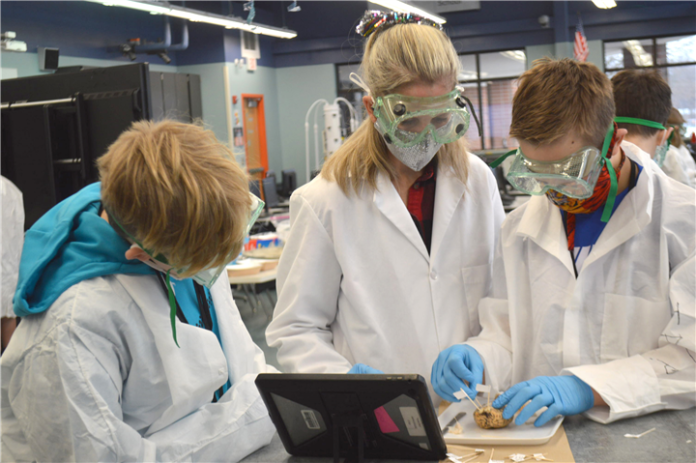 Seventh- and eighth-grade students dissected sheep brains during a medical detectives class Friday.
Project Lead The Way teacher Abbi Richcreek said this is the fourth year the medical detective class has been at Edgewood Middle School.
According to the class brochure, "students play the role of real-life medical detectives as they collect and analyze medical data to diagnose disease. They solve medical mysteries through hands-on projects and labs, measure and interpret vital signs, examine nervous system structure and function and investigate disease outbreaks."
During the course, Richcreek said experimental design is talked about.
"And we do that two ways. They create their own by doing something physical, or an activity, such as reading, and then they test a vital sign. The vital signs we currently test are temperature, blood pressure, respiratory rate and pulse. And they choose that themselves and they go through the whole experimental design process," Richcreek said.
The course also has an antibody effectiveness lab, in which students have a lab procedure where they have certain antibodies they test on certain E. coli that is not harmful to people and the students see how effective it is by measuring the ring around it to see how much of the bacteria is killed. Also during the class, students are taught about the body and body functions.
Students also learn about the brain. During this part of the course, students dissect a sheep's brain to see how similar it is to a human brain and to see how it looks, as, while on a smaller size, it is "a very close representation of the human brain."
Going forward, students will learn about diseases of the brain, Richcreek said.
They also talk about such things as viruses. The class also studies medical files, create questions and diagnose the diseases. The students will then see if their diagnosis is right, Richcreek said.
"How it started is our administration team had some community input and they decided that medical detectives aligned with what community needs. Since we are the orthopedic capital of the world, we should have a class that aligns with that. So that was how it was decided that we should teach it," Richcreek said. She also noted the class is also taught at Lakeview Middle School.
It's an elective, nine-week course and "it has been quite popular," Richcreek said. The medical detectives course is run with two to four sections every nine weeks. There's a lot of students that enjoy it and take it.
Enrollment capacity for the class is 30 students, but it usually runs between about 24 to 26 students. Richcreek said the class has gotten more popular since it has been taught and "we expect it to be consistently wanted by students."
Richcreek is not the only teacher at Edgewood who teaches the medical detectives course.
Physical education teacher Janelle Rhoades said she is currently teaching two sections of medical detectives. This is her second year teaching the course. She said all three physical education teachers have been certified to be teachers for the course. Last year, she taught one section of the course and this year, she is teaching two.
Rhoades said she thought she was going to be a brain surgeon when she grew up, so now she gets to touch on that when teaching the course. She always wanted to go into the medical field, so now she's teaching students about health, so the medical detectives is just another dynamic to what she teaches.
Richcreek said the class is pretty broad, so any seventh- or eighth-grade student who has an interest of going into any medical field, the class was fit into their pathway.
"We hope that they are inspired to continue, whether that's in high school or a career path that they enjoy. After high school, we want them to be employed in our community," Richcreek said. Any STEM career would be "awesome," but a medical field would be the goal, as well.
It's a lot of hands-on work and students love that type of work,?Rhoades said.
Seventh-grade student Ian Parrott said he wanted to take the class because it sounded fun. Seventh-grade student Tanner Beck said he wanted to take the class because it was going to be interesting talking about medical detectives and the brain. Beck said he might get more into the subject in high school.
Seventh-grade student Hailey Stookey said she heard it was interested and heard they were going to dissect sheep's brains.
Eighth-grade student Alex Brooks said the reason he took the class is because he though it would be cool to be a doctor. Allison Chapman said she wanted to go into the medical field and Airyana Bradley said she wants to go into "something forensics."