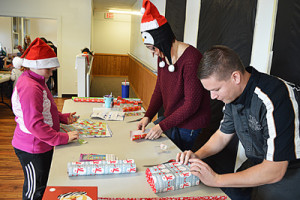 Though the venue changed this year, Winona Lake's annual KringleFest still saw hundreds of children and their parents come through the doors at the Winona Lake Senior Center Saturday.
The event, which began in 2009, was previously held at Rodeheaver Auditorium.
"It's amazing," said Winona Lake Limitless Park Dept. Director Holly M. Hummitch of the turnout. "I was worried with the change of venue, but it's been pretty good."
She estimated "a few hundred" people came to the event during the three hours.
Outside, families like Robert, Janelle and Emmett Waikel petted the reindeer "Candy Cane" and miniature horse "Mistletoe" provided by Animal-Grams, North Manchester. Then they boarded The Polar Express for a train ride around Winona Lake.
Inside, there was a photo booth to take silly Christmas-themed pictures, free and $1 crafts and coloring, hot cocoa and cookies. Children also could meet Santa Claus, get a candy cane and have their picture taken with the man in red.
Kids also had their own room to pick and wrap presents for their family. Each ticket for a gift was $1. "Elves," like volunteers Carrie and Chris Musgrave, helped the children nicely wrap the gifts in an assortment of wrapping paper.
Some of the provided gifts the kids could choose from for their family included flashlights, measuring tapes and other tools, chip clips, coffee mugs, measuring cups, candles and books of crossword puzzles.
All donations received during the event go to the Winona Lake Limitless Park.
(Story By The Times Union)