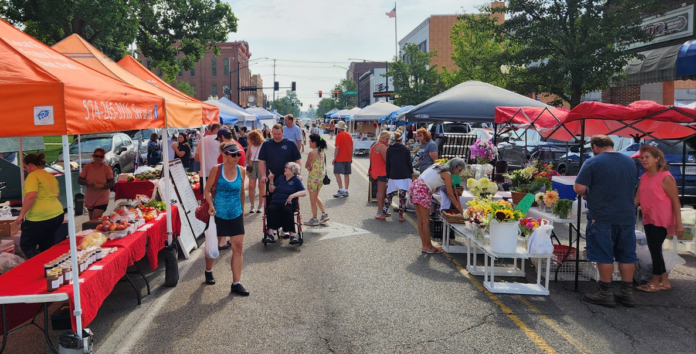 By Dan Spalding
News Now Warsaw
WARSAW — Kosciusko County Farmers and Artisans Market in downtown Warsaw on Saturday featured nearly 30 vendors filled up an entire block of Center Street with more vendors in the adjoining City Hall parking lot.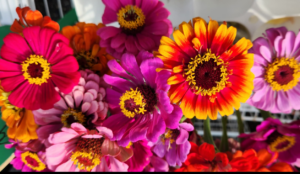 About 8 to 10 booths offered fresh products and flowers, but there was also a sense of local creativity and entrepreneurship.
Need your old chair recanned? A veteran named Little Hawk can do that and even show you how it's done.
There was Nate Carver, who works in orthopedics during the day ane ventured into woodworking earlier this year and had a large display of wavy wooden American flags.
And Linda Whitaker, who sells plants and flowers alongside her grandchildren who make a wide variety of fidget toys using a 3-D printer.
Norma Monik, Nature's Farm and Garden, of Syracuse, was selling flowers, veggies and herbs. She's been a regular at the market for four years.
"We have a lot of foot traffic here. Lots of nice people. Regular customers who come out whether it's rainy or whether it's sunshine – they're just very dedicated to come out every week," Monik said.
This year, the market is being overseen by a group of directors
Josh Fox, who sells honey products, is one of the directors. He said he feels the downtown tradition has been re-invigorated
"We're doing really well. We've had quite a few new vendors coming in this year. Seems like weekly," Fox said. "Our numbers seem to be up. We're seeing a lot of new faces of patrons coming into the market."
The market is also offering vendors on Wednesday night in the city hall parking lot from 5:30 to 7:30 p.m.
This spring, a new farmer's market began operations just a few miles down the road in Winona Lake at the Miller Sunset Pavilion.
From Fox's standpoint, it looks like there's room in the market for two.
"I think we are definitely holding our own with it," Fox said.
The market runs every Saturday from 9 a.m. to 1 p.m . and continues into October.