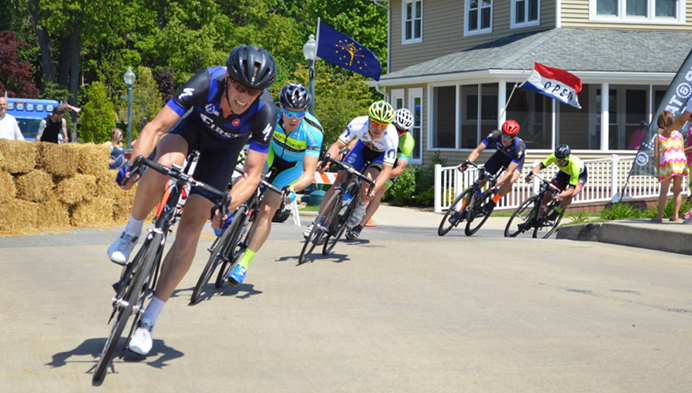 By David Slone
Times-Union
WINONA LAKE – The ultimate goal for the Fat & Skinny Tire Fest from the beginning was for it to be a three-day all-things-cycling weekend and a community event.
Even as Fat & Skinny has grown and is now in its 18th year, the goals remain the same, according to organizers.
"Years ago, when we first started it, the ultimate desire was to put on a multi-faceted, multi-day bicycling-specific event. But, we didn't want it to just be" mountain bike races, group rides and tours or road races, said Greg Demopoulos, festival co-director and vice president of KCV Cycling. "So we tried to bring all facets of cycling together."
The "fat" represents either the beach cruisers or the mountain bikes, and the "skinny" is typically the tour and road bikes, whether that's for racing or just recreation. "So, Fat and Skinny Tire Fest is ultimately the different bicycle tire types," he said.
The event is May 19-21 in Warsaw and Winona Lake, with several rides extending out into the county.
"It officially starts on Friday, the 19th, which coincides with Bike to Work Day, and that's the end of the culmination of Bike to Work Week, so we always time it in relation to that national event," said Mike Cusick, president of KCV Cycling and festival co-director.
If it wasn't for the pandemic, Fat & Skinny would be in its 20th year. He said they had to skip 2020 completely, and only had a few outdoor events in 2021 so they called it the "Mini Fat & Skinny." In 2022, the festival returned to its full glory.
Additions
To festival veterans, Cusick said this year's events will look very similar to past years.
"What's different is, this year we brought back a Friday night race. We did not have that last year. And, previously, we had it as a time trial out to Zimmer Biomet and back, but this year we've made it a criterium, which is a lap event, so we're doing it around three city blocks around the courthouse and a couple other blocks downtown," he said.
Additionally, they've added two mountain bike kids' clinics on Sunday morning.
"So any parents with kids who are interested in learning and improving skills on mountain bikes can join that. That's actually being delivered through a partner of ours, which is the NEIC Trailblazers Group. They have certified coaches that will work with the kids on the skills and then take them out for a small ride on a portion of the dirt trails," Cusick said.
Children should bring their own bikes, but there will be a few bicycles available on a first-come, first-served basis for any kids who don't have one.
Demopoulos said the festival had over 2,000 participants last year with an estimate of over 5,000 spectators.
"We would love to be at that or above, and our hope is that, if we have good weather, we'll hit that with the big mass ride to downtown and then add another couple of events, especially Friday night because we think that should help," he said.
They're partnering with the city of Warsaw and Kosciusko Chamber of Commerce for the Friday events because those will take place during downtown Warsaw's Third Fridays. The city and Chamber will take care of the band and some of the vendors, while Demopoulos said KCV's focus will be on cycling-related activities, including the criterium and BMX stunt show.
If you miss the BMX stunt show on Friday night in downtown Warsaw, there will be two on Saturday in Winona Lake.
"Saturday will be interesting because there will be the first big event – outside of ice skating – that will be using the (Miller Sunset Pavilion)," Demopoulos said. If the weather is bad, the BMX stunt show will be inside the pavilion. "We'll have the bands in there. The kids' activities will be over there in that area. A lot of that depends on weather."
The countryside tour will start and end at the pavilion as well, Cusick said.
Draw
Riders and spectators will come to the festival from all over.
Demopoulos said participants and fans are typically from other parts of the world when someone is in the area already during that weekend due to orthopedics. He said in years past he's had conversations with people from Europe, who were working for companies like Zimmer Biomet, who are used to cycling events like the Tour de France. They told Demopoulos it was nice to be here when there was a bike event going on.
"By and large, typically where we market heavily is the five-state area – so certainly throughout Indiana, southern Michigan, western Ohio, Kentucky, Illinois. Those are kind of the bread-and-butter of where we're reaching," Demopoulos said. "The mountain bike race is the Indiana State Series, so it will get some people from Ohio and Illinois. And then, also, our road races are part of the INKY Cup, which is Indiana-Kentucky Racing Association, but because it's a USA Cycling-sanctioned event, USA Cycling helps us promote it as well."
Depending on where teams are coming from, he said there may be riders from outside of the five-state area.
Cusick said many people who have lived here or visited will come back to the area specifically for the festival weekend.
"I think the thing that's also interesting with some of the pro teams for the road race – so they might be centered in the five-state region, or even a little bit beyond, but they have team members from all points of the country. That brings in a lot of the names from outside of the area," he said.
The festival has had future world champions for many years, Cusick stated. As teenagers or maybe at the beginning of their pro level, he said they will come to the festival to start their racing career. As an example, he mentioned Chloé Dygert, who went on to become a world and Olympic champion in cycling. Local racers have also moved on to the pro level as well.
Measuring the economic impact of the festival isn't easy, Demopoulos said, though an analysis was done five to six years ago. Cusick said it certainly has an impact on the hotels, restaurants and local businesses.
Safety
When it comes to safety at the festival, Cusick said it's a top priority. He said there can be accidents because there are always risks with cycling, especially with a racing event or mountain biking.
"Yes, there have been incidents over the years, but we prioritize safety with what we do – road races with barricades and hay bales. We have EMTs available at events. But it is the nature of the sport, especially in a highly-competitive involved environment, things can happen, but we do whatever we can to minimize it," Cusick said.
USA Cycling reviews the courses just prior to the races and they've been "very pleased," he said.
Demopoulos said a big portion of their budget and/or their volunteers is spent on getting courses ready or protecting the riders with the courses. He said they spend a lot of money on barricades, straw bales and a lot of people are used to prep the trails.
"Like Mike said, any time it's a competitive event, you can't rule (accidents) out. People are racing," he said.
USA Cycling – a national organization – is a partner for the festival's major events and they're insured and have regulations to follow, Cusick said. USA Cycling also has the experience to educate the racers on the rules before they ride.
"It's a high concern, and we do whatever we can to minimize issues," he said.
Volunteers
When the festival started, it began with friends and family and maybe 30 volunteers, Cusick said. In 2022, there was a need for about 280 volunteers.
"It's a great way for people who enjoy the festival or hadn't really been exposed to it yet to get involved. And you don't have to be a cyclist to be a volunteer," he said.
A volunteer could work a corner of the race course for safety, help logistically to set something up or manage the kids' activities.
"There's really something for everyone and it's an easy way for people to get involved," Cusick said. "We love our volunteers and we want to recognize them for what they do, so every volunteer gets a Fat and Skinny shirt. We also have a volunteer gift and also we'll get them a meal ticket for the weekend as well. We really want to recognize our volunteers for the time they put in because we can't do this event without volunteers. It's just impossible at this point."
Demopoulos added, "We're all volunteers as well, so that's the other thing. We do this because we believe in what we're doing. We're passionate about the benefits that bicycling can bring to a community. And, again, most of us are on the board or on the planning committee because we love this community, and if we're going to live here we want to make a difference here."
While they will still take volunteers the weekend of the festival, last-minute volunteers may not get a shirt in their size at that point. Signing up beforehand allows the festival organizers to coordinate and plan better, Demopoulos said.
Ideally, volunteers will sign up 10 days ahead of time because there's a volunteer meeting at around that time, Cusick said. Volunteers do not need to be a cyclist to volunteer.
Volunteers can sign up at the Fat & Skinny Tire Fest website at https://www.fatandskinnytirefest.com/.
Sponsorships
Costs for the three-day weekend have risen quite a bit over the years, Cusick stated. "But part of it is to make the event a better experience, and certainly some of those costs are inflation, it just goes up. We have expanded police officers and we do pay for their time. And then barricades, right? We've talked about safety, we've added barricades, all of those are our costs. We've added lights to a lot of our events, and, luckily, we get some of it donated but we also have to pay for it when needed," he said.
Cusick said they do have strong support from their sponsors, which have mainly been the same ones over the years, but there have been add-ons, too.
"Our goal is not to make money off the event. We do cover a little bit that covers most of KCV's operating costs, except for the bike park now. We want to make sure we're breaking even with the event, but between the costs to run it – without going into the detail – our biggest goal, our vision with KCV is to improve the community through cycling. So the festival, we use it to create awareness in the community, to encourage cycling, to create awareness for KCV and what we do as well," Cusick said. "So that's really the goal of it overall and how it started was, we've got a great community for bicycling, let's celebrate it and use the festival as a way to create greater awareness and get more people on bikes."
Demopoulos said the festival is not meant just for racers. A person can just ride their bike from Winona Lake to downtown Warsaw on Friday in the mass ride to watch the races, the BMX stunt show, enjoy the live music and food trucks.
"Even from a social aspect, it's a great community event. If you do want to go racing, there's a category for you. If you want a little more than a 3-mile ride, then there are tours – we have a historical tour and we have the big countryside tour … But, the ultimate goal is to be a community event. We want to put our best foot forward with showcasing our community to all of the visitors that come in to town, but also showing what bicycling can do for a community," he said.