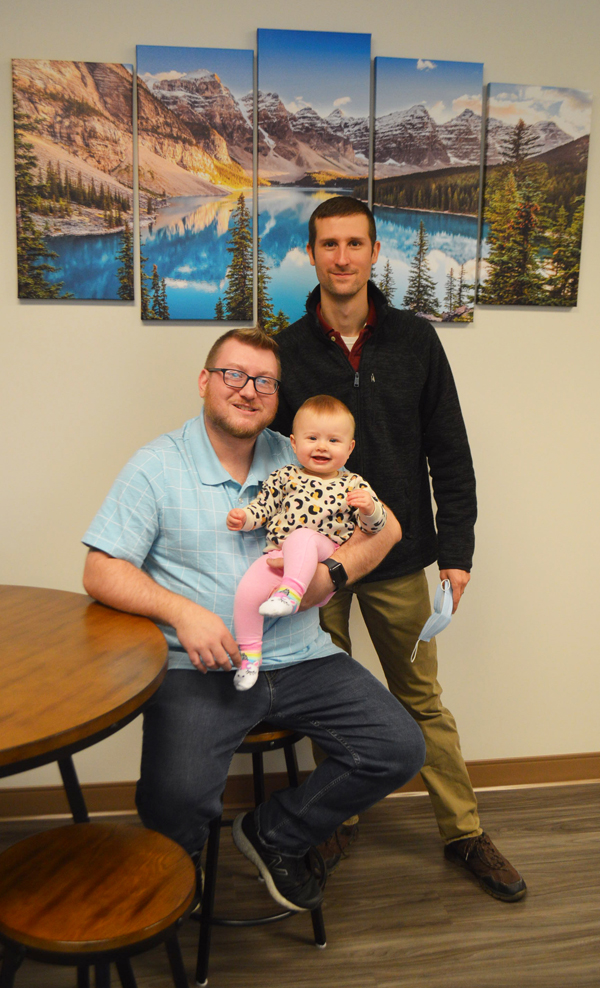 TIMES UNION REPORTS – Like motherhood, fatherhood doesn't come with an instruction booklet, but a mentorship through Heartline Pregnancy Center is helping expecting and new fathers navigate their parental journey.
Brian Faust, fatherhood program coordinator, said the Rock Solid mentorship has been in existence for not quite two years.
"We call it more of a mentorship or fatherhood coaching. We don't tend to use the word program as much, even though, obviously, that's what it is. No guy wants to go to a program," he said.
Faust meets with each dad for about 45-60 minutes a week.
"At the very beginning, we just kind of establish what does a dad need to feel confident and confident in his role as a dad. So we meet with them while mom is pregnant, and so just kind of figuring out how can we help out in that role. But then, after the baby is born, we also can continue to meet with them and just be able to provide some support and stuff to help them get started," Faust said.
He works with dads pre-birth to when the child is 5 years old. The dad decides when they want to start and stop and at what level he wants to receive services.
The majority of the dads in the program come to Rock Solid after they and the mother of their child are plugged into Heartline services already, though the fatherhood program is advertised some.
"Sometimes, it's the mother comes in for a pregnancy test and dad shows up as well. And while she's doing the initial intake paperwork, I'll take dad back and just kind of talk to him a little bit about what we have to offer," Faust said.
Jonathan Ross, 30, Rochester, formerly of Akron, is the father to Savannah, now 11 months.
"My fiancee got pregnant. She came in for the test and heard about services, and her and I started the Earn While You Learn program, which was great. Lisa mentioned this and I looked into it," Ross said.
He emailed Faust and they eventually connected. "It's been almost every week since," Ross said, estimating his mentorship with Faust to be in its 14th month.
Before Savannah was born, Ross said there was a lot of "here's how to help mom, here's how to deal with mom at some level, and that was a big help for me. My now-wife has went through a lot in the last couple years. Her mom passed away not long after we started dating and just a lot of things changed from that point and she's dealt with a lot of issues stemming from it."
When his wife got pregnant, Ross said she wanted the baby but there were a lot of difficult circumstances and emotions.
"It was great to have someone with a counseling background to come and stay even every week with," Ross said.
He had spent 6-1/2 years working in a correctional facility and left when he was assaulted, which he never really saw anyone about that either. He and Faust have been able to discuss that, which he said was helpful.
"So it's just been an all-around experience. But learning a lot more about what I'm going to experience with her (Savannah) and what she's going to start doing, when she's going to start doing it," Ross said.
He said Faust also lets him talk about things he wants and needs to talk about. Faust offers him support that helps Ross support his wife.
Without Faust and Rock Solid, Ross said he might be able to do what he needs to do as a dad and husband.
"Probably. I feel like I would figure things out. But at the same time, I don't have much of a support system in general of people to call up and say, 'Hey, this is what's going on.' So having a weekly meeting has been very 'OK, mental note, let's talk about this on Thursday,' 'So this happened this week and I don't know how to feel about it yet.' But once I talk about it with him, it's like, 'Here's a direction,'" Ross said.
He said the fatherhood program has been extremely beneficial and he can't imagine not having Faust at this point to talk to.
A father of three himself, Faust said he recognizes some of the fears of new dads and has firsthand experience of being a dad. He ingrains himself into a lot of the resources that Heartline does have available for dads.
Faust has a counseling background, having previously been a therapist before joining Heartline. "So I kind of draw from just a lot of experience and best practice working with parents, helping them to just increase their understanding of childhood development and just relationships with kids, relationships with each other as parents," he said.
He holds a bachelor's degree in psychology and master's in clinical mental health counseling.
On average, Faust said, "We've been meeting with between five to seven dads per week. We'd love to bump that number up. The sweet spot would be somewhere between 15 to 20 is what we're hoping for, so definitely room to grow."
He'd love to bring in some additional volunteers to help with the mentoring and the areas that aren't necessarily his expertise. A good "think tank" would help him grow Rock Solid.
"Coming from a counseling background, I love meeting with the dads, that's definitely where my heart is. But there's so much that goes into being the coordinator, being the one-stop shop where everything  fatherhood is here. There's a lot of shoes to fill," Faust said.
The way the Rock Solid program is set up, Faust explained, is that he tries to get a feel for where the dads want to put their focus and energy. For Ross, the primary focus is on his relationship with his wife and trying to be a team and working together.
"Other times, some dads might say getting finances in order, just kind of feeling like we're freed up to not have to worry about how we're going to pay the bills or how we're going to take care of all these different needs we have. Sometimes that's the focus. I try to kind of meet dads wherever they're at … obviously, the goal is to equip them to be functional in their role as a dad, but that looks different for each dad. So we try to work with that instead of having a cookie cutter approach where everyone goes through the same workbook or everyone gets the same experience," Faust said.
He has focus topics he tries to get dads to consider. Those include fatherhood basics, financial wisdom, life skills, managing anger, parenting, supporting mother and special circumstances. A special circumstance could be anything from the mom and dad aren't living together and want to co-parent to the dad is being deployed overseas and wants to still show his child his love though he's not physically present.
"I do have a counseling background, but  I'm not providing counseling. If anything, I'm supplementing counseling or what other services they might be offered," Faust said, to be clear.
Ross said he would love to see the fatherhood program continue to grow. Faust said he'd like to eventually get Rock Solid to the point where there's enough guys that he can connect them together to support each other.
"At this point, we just don't have that capability, but I'd love to get there," Faust said.
For more information, contact Heartline Pregnancy Center, 1515 Provident Drive, Warsaw; call 574-267-5110; text 574-635-1272; visit the website at https://heartlinepregnancycenter.org/ or check out the Facebook page.
"The benefit is so amazing, really," Ross said.