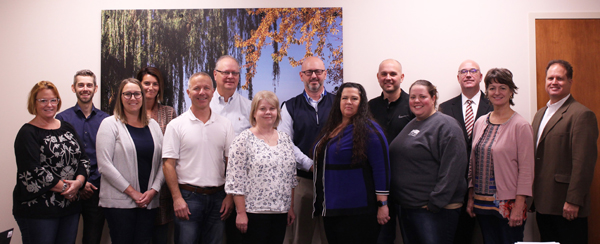 The board of directors of the Kosciusko County Convention and Visitors Bureau (KCCVB) recently met to hold its annual meeting of the board.
Terms were renewed, two new members were elected and officers were voted in for 2022, according to a news release Monday from the KCCVB.
"In addition to the regular business of the board to build its team for 2022, members committed significant time to review initiatives listed in the 2021-2023 strategic plan," said Jill Boggs, KCCVB chief executive officer.
Renewing their terms as members are Rachael Stouder with Tri-County Fish and Wildlife, Jenna Faas with DePuy Synthes, Jennifer Carnes with The Heyde Group LLC, and Alan Alderfer with Alderfer Bergen & Co.
The KCCVB board of directors elected two new board member to its team: Jessica Harmon, general manager at tru by Hilton Warsaw, and Stephanie Schaefer, recreation director at Warsaw Parks and Recreation. They will begin their first term in January.
The 2022 officers of the board were elected. Doug Hanes with 1st Source Bank will continue in his second year as chair, Trace Hansen with Eastlake Skating Center will continue as vice chair, Jenna Faas with DePuy Synthes will continue as secretary and Jennifer Carnes with The Heyde Group LLC will continue as treasurer.
Laura Rothhaar was introduced as a new visitor bureau team member, filling the marketing and communications manager position vacated by Mitchell Randall in October.
As part of their governing responsibilities, the board reviews the organization's mission focus, strategic goals and priority initiatives each year of its three-year rolling strategic plan. To prepare for their strategic review work, the board heard updates from Boggs on current trends in the travel industry, future outlook analysis and trending occupancy numbers for the hotel lodging sector in Kosciusko County.
"The near-term outlook for travel is positive with 83% of Americans having trips planned in the next three months. There is nearly 70% high degree of excitement to visit somewhere new. Day trips are up from previous numbers due to low Delta variant concerns. Business and meeting, sports tourism, and group travel is beginning to rebound. While the industry is still experiencing ebbs and flows in positive and negative travel sentiments respectively, the data in industry research conveys an outlook of optimism for the return to near normal 2019 travel numbers within the next six to nine months," Boggs said at the board of directors annual meeting. "And Kosciusko County hotel occupancy trends are steadily trending up also, giving optimism to exceed 2019 occupancy percentages by end of next summer season." However, Boggs also expressed that travelers polled in the research are concerned about higher prices in most areas of the economy, and that this could affect travel intention decisions as could unpredictable changes in the environment that comes with COVID-19.
"For now, we'll take the optimistic outlook and our destination will adapt as necessary just as it has successfully done in the past twenty months," Boggs said.
The board of directors will finalize their review of the 2021-23 strategic plan at its January meeting. At that time, the staff will build their 2022 marketing and business plan to set in motion destination marketing and management efforts in order to meet the strategic goals and initiatives established by the board.