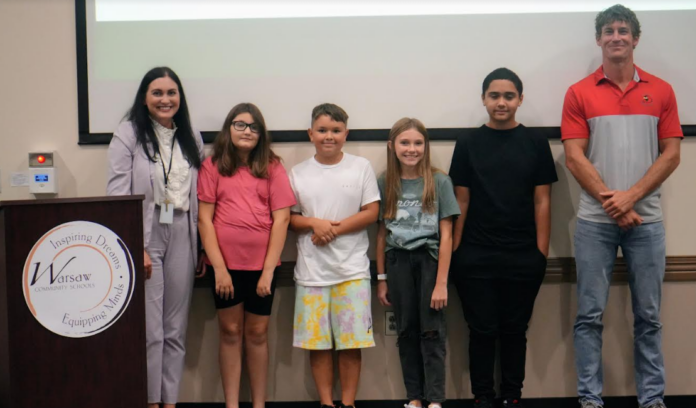 News Release
WARSAW — Warsaw Community Schools has announced a remarkable achievement in the recent ILEARN state assessments, administered to students in grades 3-8.
During the regular board meeting on Aug. 14, special recognition was given to Grant Hendrikse's fifth-grade class at Madison Elementary.
The class achieved an impressive 100% passing rate on the ILEARN state assessments in math as well as an 88% pass rate in ELA.  This accomplishment is a testament to the unwavering dedication of both the students, parents and their committed teacher and reflects their unwavering commitment to academic excellence, the news release from the school district said.
Several students stood out for their remarkable growth and achievement. Kaiden Bradford, Tenley Silveus, Dominick Tran, and Gemma Cox were acknowledged for their outstanding progress on the assessment. Each of the students showed high growth and scored a 4 (the highest level) on either their ELA, Math or both assessments.
Dr. David Hoffert, WCS Superintendent, acknowledged these accomplishments: "We are incredibly proud of Kaiden, Tenley, Dominick, Gemma, the entire fifth-grade class, along with Mr. Hendrikse. Their relentless hard work, determination and genuine enthusiasm for learning have resulted in this outstanding achievement."
Deputy Superintendent, Dani Barkey stated, "Mr. Henrikse's data-driven approach helps ensure each student reaches his or her goals.  21 out of 23 students scored a 4 on their math assessment this year in the class-an impressive feat!"
Dr. Hoffert added, "All of our schools consistently prioritize academic excellence and employ innovative teaching approaches to empower our students for success. We commend the collaborative efforts of teachers, parents and students, which have significantly contributed to our ILEARN assessment results."