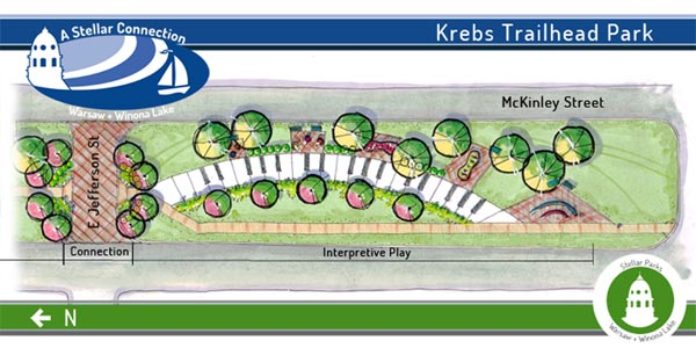 The fifth Stellar project announced today is the Krebs Trailhead Park.
One of the most valuable and unique resources of the City of Warsaw's parks system is its neighborhood parks, according to information from the city planning department.
The most recent addition to the parks system is Krebs Trailhead Park. This neighborhood park was built as a linear open space along the main trail route. The Stellar plan describes the city's vision for expansion of the park to include interactive public art exhibits.
The goals of the project are to:
• Improve local quality of place and children's health with an improved neighborhood park.
• Expand play options by building a new, accessible, neighborhood playscape for nearby children.
• Improve local quality of life with a public space that features local art.
• Provide additional amenities on the main trail route.
• Add a truly unique park space that will be a local asset and a regional point of interest.
• Add a "Little Free Library" that will allow the sharing of books for the public.
Indiana will designate its 2016 Stellar Communities Aug. 18 at the state fair, and the City of Warsaw is one of three finalists vying for the honor in its category.
To inform the local community about the proposed projects the city has in mind as part of the Stellar Community Program, and to gather input, Warsaw has created a Facebook page under "Warsaw + Winona Lake A Stellar Connection."
Each week, the Facebook page will detail two of the proposals, which also will be published in the Times-Union. Two proposals have been published each week for the last two weeks.
Times Union