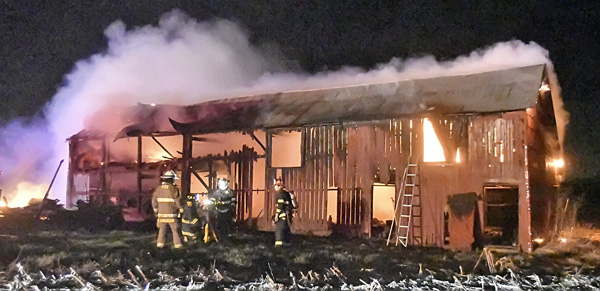 NORTH WEBSTER – A late Wednesday night fire that destroyed a recreational vehicle and a barn is still under investigation.
Tippecanoe Township Fire Territory Fire Chief Jeremy Likens said his department received the call at about 10:19 p.m. Wednesday for the fire at 7130 N. CR 650E, North Webster.
He said they believed the fire started in the RV, which was up close to the barn, and that's how the barn caught fire, but it's still under investigation. No one is believed to have been in the RV at the time, but that's also under investigation.
No injuries were reported.
Though the barn is still standing, Likens said it and the RV are a total loss. Items in the barn included straw and miscellaneous tools.
Twenty to 25 firefighters were on scene from the Tippecanoe Township Fire Territory and Turkey Creek Township Fire Territory, with tanker assist from Leesburg, Milford and Pierceton. Likens said they had it under control in about 45 minutes.
County records indicate the property is owned by Sandi M. Miller and Paula J. Miller.