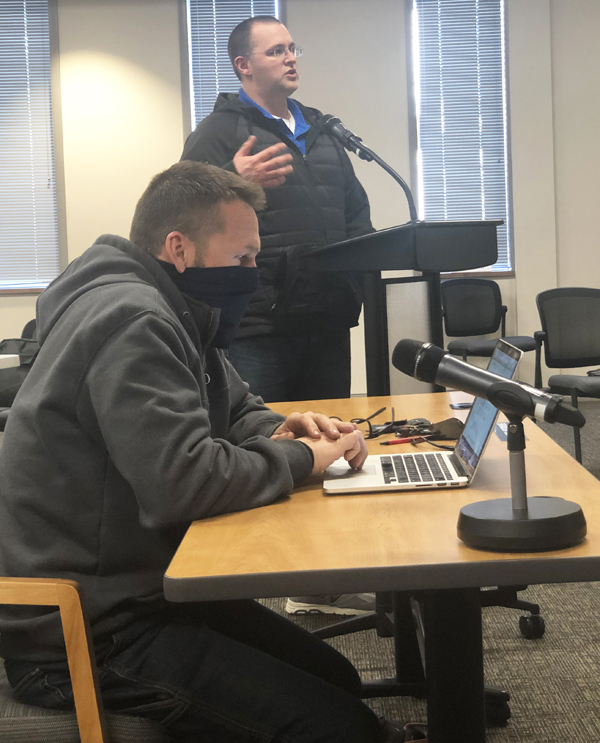 Educational programs for firefighters and the public were brought before the Warsaw-Wayne Fire Protection Territory (WWFT) board Tuesday.
Fire Chief Mike Wilson presented the 2021 WWFT Citizens' Fire and Rescue Academy. He said he and Assistant Chief Aaron Bolinger worked on the Academy for the community.
"In watching things across the United States, this is something that law enforcement and fire services has done. We're bringing it to you for approval to move forward with preliminary scheduling," Wilson said.
According to the proposed schedule, the first class would be Aug. 24 at station 2. The classes then would be held Aug. 26, 31; Sept. 2, 7, 9, 14, 16, 21, 23 and 28, with graduation set for the last class.
Wilson said the Academy would be presented by members of the WWFT, and they're hoping members of the Fire Territory board and Warsaw Common Council would be in the first class. Subjects to be taught include communications, extrication and CPR, among others.
"It kind of follows the same thing that the police department is doing with its Citizens' Academy," Wilson said.
He said they'll have about 15 participants in the class so there's more one-on-one time.
Warsaw Mayor Joe Thallemer asked if there will be enough room to spread out in at all the locations for COVID-19 restrictions. Wilson said they've talked about that and there's a plan in place for each location.
"Hopefully, we get some interest," said Territory board member Brandon Schmitt. "It's a great class."
Wilson said the Warsaw Police Department has done very well with its Citizens' Academy "and it's time for us to try to get the community involved. Show them what we do. And it's the guys doing it, it's not the guys at the top, it's the guys in the trucks that will be doing it. Hands-on stuff."
Thallemer said it looked like a pretty aggressive class schedule, but "I think it's a great idea."
The Territory board approved the schedule.
Following that, Wilson and WWFT Public Information Officer Max Kinsey asked the board to proceed with seeking the community's support for a Survive Alive House.
"We are wanting to propose a project to build a single-family residence, it could be one-story or two-story," Kinsey said. He said they got the idea from working very closely with Capt. Dave Meadows of the Fort Wayne Fire Department.
"They have a Safety Village up there. And out of that Safety Village, they actually have what they call a safe Survive Alive House. And it's set up like a normal residence would be set up. So, we would bring everyone from kindergartners up to senior citizens into a residence; and it would be a controlled house where we can control different situations, whether we fill it with smoke and teach them out to get out; whether we're on different rooms, how do we know two ways out and different things like that," Kinsey explained.
Wilson said the idea behind it is to find some partnerships throughout the community that want to be involved in building something like the Survive Alive House. He said they want permission from not only the WWFT board, but also the mayor's office and Board of Public Works and Safety to be able to talk to community leaders to talk to them about this program. "How important it is for public education. To be able to teach not only the little ones … but also the seniors on fire safety in the residence," Wilson said.
Thallemer suggested that before they go out seeking support from the community, it would be useful for them to have a plan and a budget laid out. The Territory board approved for them to take the next step in coming back to the board with a full-blown plan.
Lt. Drew Shilling presented further information to the Territory board on WWFT serving as host agency for Dive Rescue International's water rescue classes in August. The classes were first discussed at the February board meeting, and Thallemer asked for some more detail.
"Dive Rescue International is the company we're looking at going through. We've had them in the past. We went to Dive Rescue International standards probably in 2009. They're a national leader in dive training and surface water training," Shilling said.
The classes in Warsaw will be Aug. 4-16. The five classes include dry suit diving, boat based, operations, dive rescue I, critical skills diver and current diver.
If Dive Rescue International gets 15 paid participants, then WWFT gets five free spots. If WWFT wants more than those five spots, the Fire Territory will have to pay for those and for overtime associated with that as well, Shilling stated.
Classes will be held at the county fairgrounds.
Thallemer asked about provisions for social distancing for the classes. Shilling said Dive Rescue International limits the class sizes to 20, and the Home & Family Arts Building at the fairgrounds is a good size so participants will be spread out well.
The Territory board unanimously approved for the fire department to be the host agency for the classes.
Wilson then informed the board that the Fire Prevention Bureau is back in the schools to teach elementary students about fire safety. They are following Center for Disease Control and Prevention guidelines for social distancing and are wearing their masks.
"Firefighters Max Kinsey and Trent Stamper, with the support of our other staff members, will be doing this," Wilson said, and it will continue through the rest of this year.
He also reminded the board that Kinsey and firefighter Joel Shilling are still doing fire instruction as instructors at the high school. "So we still have our firefighter I and II class ongoing at the high school. It's a very good program. It gives these kids an opportunity to see what we do, get their education and their certification while they're in high school so they can come right out and either volunteer for their communities or have the potential of coming to work for us in the future," Wilson said.
Kinsey said there are nine students in the fire rescue I and II classes.
Also brought back by the WWFT is the Ride-A-Long program for those members in the fire service that want to gain knowledge from the WWFT.
"So, back in the day, we started this when we had individuals from other volunteer agencies who just wanted to come and ride," Wilson said. "Now that we have a part-time firefighter program, we still have those people that work for other locations that can't really get the complete requirements to be part-time firefighter, so we have been asked by a few to reopen this program. It falls under the direction of Battalion Chief Huffer."
There will be an application process for the program. Wilson said the individual's own fire department has to sign off on them participating.
"And the whole point behind this is allowing them to gain more knowledge from the fire service and what we provide. To get something, to learn something, to take back with their own departments. It's kind of a mentoring program," Wilson said.
Thallemer asked how long the WWFT has gone without the program. Wilson estimated only a couple of years.
Schmitt asked if there's been interest in the program.
"Yes," Wilson said, "We actually have some kids, new firefighters from Burket, that want to come ride. That's the closest ones. They're young men with families who can't commit to working part-time hours, but they want to be involved in the department. This is the easiest way for them to get involved in the department."
There was some concern expressed by Common Councilman Mike Klondaris about liability. The program was approved on the condition that WWFT attorney Andrew Grossnickle and city attorney Scott Reust review the program and paperwork and the program also be approved by the Warsaw Board of Public Works and Safety.