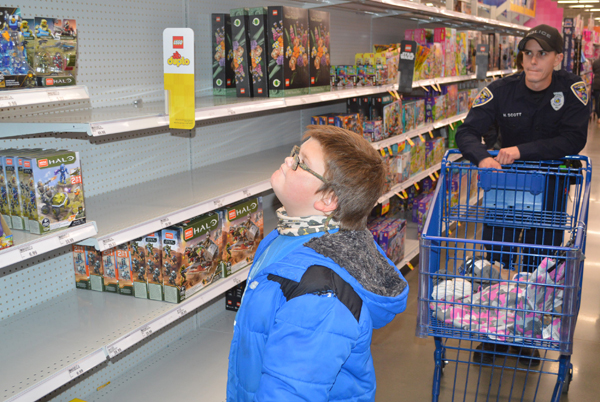 For over 10 years, the Fraternal Order of Police Lodge #149 has helped make Christmas a little brighter for Kosciusko County children from less fortunate homes with toys and clothes through its Christmas with A Cop program.
Thursday evening, at least 30 officers from police departments from all over the county went shopping with approximately 100 kids at Meijer.
Warsaw Police Department Det./Sgt. Ryan Moore, Lodge #149 president, said, "They're all Kosciusko County kids, all K through 6."
While most of the kids were referred to Christmas with A Cop through the schools, Moore said, "Sometimes we have families that have hardships, and one of the officers, that is a member of our Lodge, knows a family that hit a hardship, whether it was somebody that was sick and they have tons of hospital bills, or a fire, and so we always help those families out, absolutely, also."
To make the program possible, the Lodge has a number of fundraisers.
"All of our fundraisers throughout the year go (toward this). Sometimes we just get donations in because they know we do this. We've been doing it for long enough that people know, and they know that we're a not-for-profit, and so they'll send donations in to the Lodge through the mail or through our PayPal. And we also do an annual golf outing every year. We do it at Stonehenge in August or September, and that's our main fundraiser and all of that money goes right here," Moore said.
Meijer always kicks in, too, he said, donating $2,000 on Thursday.
"We're going to take 100 kids shopping and spend $100 on each kid. It's fun," Moore stated.
Within the first half hour of the nearly four-hour event, Moore said he saw officers from the Milford and Warsaw police departments; Kosciusko County Sheriff's Office; Indiana State Police; Syracuse, North Webster, Winona Lake, Silver Lake, Pierceton, Claypool police departments; and State Parole.
"There's guys here from every department. They all like doing it. We encourage officers to bring their wives or girlfriends, so sometimes they can help and keep track of money and stuff like that," Moore said. "We always have Santa here because the kids love to see Santa and get a snack. It's a great time. We always have a very good turnout."
Fundraising for Christmas with A Cop 2022 will begin as early as January.
"We'll have our next meeting in January and that's when, in the meeting, we'll say, 'We just paid this out to Meijer this year. This is our account balance and let's get after it for this year,'" Moore said.
If people do want to donate, and want to do it through PayPal, the Lodge's account is FOP149@gmail.com. They also can be sponsors of the golf outing.
"Honestly, each year, sometimes we have families come up and give us money while we're doing this because they know what we're doing and they're like, 'Hey, spend this on a kid today,'" he said. "Sometimes we have families come up and they say, 'We're having a hard time. Can you take us shopping?' And we add them, too."
Moore said they always account for that and it's not an issue.
"Meijer is great. They give us two lanes just for us and they just keep a running total and we get after it from 4:30 to 8 o'clock tonight," he said.
Sometimes law enforcement gets a bad rap because when they're around people need them and/or are having a bad day.
"But today, that's why we do this, one of the reasons, is we want to help people have a good day," Moore said. "And we want to help people realize that we want them to have a merry Christmas. We want them to enjoy time with each other, their families and meet an officer. And maybe, down the road, we'll see them out on the street. I know I've seen kids before and they're like, 'Oh, you bought me that Nerf gun!' So, stuff like that makes a difference. If it makes a difference in one kid's life, then we did our job today."