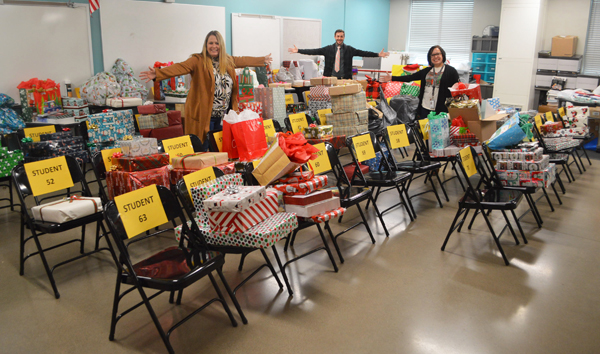 In a classroom at Washington STEM Academy are multiple rows of chairs with boxes and boxes of wrapped Christmas presents sitting on them.
The presents are from Washington families, teachers and staff and will go to Washington students whose families may need a little extra help this holiday.
The idea for the first annual Washington Hornet Holiday Helpers started around Thanksgiving when Tiffany O'Malley, administrative assistant to Principal David Burden, wanted to do something for the holidays that directly impacted the Washington family.
"I had contacted Mr. Burden and normally we do a canned food drive or we'll pick and donate to a family. But I said I wanted to do something that actually affected Washington directly," O'Malley said in an interview Thursday at the school.
Burden got her in contact with a counselor at LaVille Elementary, where Burden previously served as principal.
"She said they did a program like that there where their parents sponsored their students, and so we got together and did a Google Meet with her. Then we sent out applications to our families asking for families who needed assistance this year and then for families who wanted to help sponsor those students," O'Malley explained.
She then received applications and started to get parents who wanted to donate, buy presents or gave monetarily. She worked on putting all of that together.
Her goal was to help 50 students.
"At the time, being our first year, we didn't know what was going to happen, but we ended getting 70 students sponsored by families," she said.
There are 531 students at Washington.
When O'Malley first came to Burden, he said his initial thought was, "We do a lot within our community to be able to support those who live here in Warsaw. What we really wanted to accomplish was even more personal than that: Being able to come alongside the Washington families and have Washington families be helped by Washington families, and really building community within our school."
On the applications, the parents filled out their student's age, grade, their likes and interests. The parents also were asked for the kid's specific needs for this winter and school year.
"Each of those we then paired – when a family wanted to sponsor we gave them that information and they went shopping from there. We just told them that we kind of would like each family or each student to have about three to four gifts. And we didn't set a price limit so the parents could do whatever they felt necessary and we had an overwhelming response," O'Malley said.
"We had two students who ended up that we were short just a little bit, but we got such a large cash donation, we now are going shopping for those students, and then the additional money, we are getting an extra gift for each of the kids. Like something small – a stocking or something small along the line," she said.
All the families with kids receiving gifts have been contacted. The families will either pick up the gifts on Dec. 20 or 21. For those families who can't come in, bus driver Donna Castle volunteered her services to pick up Burden, behavior case manager Jennifer Fugate, O'Malley and secretary Kendra Smith with the remaining gifts and they will deliver them to their houses.
"It's been pretty amazing. We've had teachers helping out and sponsoring kids. Teachers helping with getting students and recommending students that they would like to see get some assistance this year. It's pretty cool," O'Malley said.
Fugate said, "There were a few families that gave that I was like, 'Wow!' They just gave from the heart."
If the students have siblings under the age of 18, the brothers and sisters will also receive gifts to be fair.
"When we matched up the families, we made sure that they got a student that wasn't in the same grade as their student so that we kind of kept it anonymous," O'Malley said.
Burden said they did a good job of keeping it secretive and confidential and that was key to it as well.
Spoonful of Imagination Art Studio also helped out. O'Malley said they reached out because they have students at Washington.
"Erica Deuel contacted me and had me give her a list of all of the students here that  had listed, in their interests or likes, anything drawing or crafts. And then her family put together care packages for each of those students with some kind of craft or art project as a gift. So there was about 20 families that they went and did that for – little personalized crafts for them to have, too, on top of the other gifts that they received," she said.
Burden said he is amazed at what was accomplished in the first year of Hornet Holiday Helpers.
"I'm amazed and blown away. This exceeded expectations. Really, we wanted to come alongside and help plug people in to be able to go toward that generosity and giving season and giving a way to do that very personally and very locally here at Washington," he said. "I'm just blown away by the amount of families that raised their hand and said, 'I'll participate.' It is going to make so many kids' Christmases one to remember."
He said he could see it become an annual event.
"We've started something that's not going to stop, which is the momentum that's part of our school's mission as we enrich the lives of others. It's not a one-time moment, it continues on and it continues to grow, and so I think this is something that started that we're going to see many, many years of this impact in a positive way," Burden said.