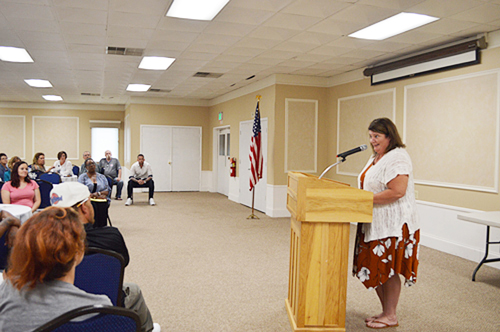 More than 100 people filled the Shrine Building at the fairgrounds Thursday night to listen to a local former heroin addict speak about his journey to recovery.
Warsaw City Council candidate Sara McNeal Strahan-Lenfestey organized the event that brought Tommy Streeter, Warsaw, to the podium, along with his mom, Jen Streeter, who talked about what it's like to be the mother of an addict.
"I ended up realizing back in 2015 that there has been a huge increase of drug issues in our area and I wanted to figure out a way to help, so I reached out to Tom," Strahan-Lenfestey said.
Streeter was no stranger to street life back when he was heavy into heroin at the age of 19. He's 26 today and has been sober since April 1, 2018. For Streeter, it started with pot at the age of 13.
Then the high school athlete got injured in 10th grade and was given a narcotic for his pain. Years of abusing pills eventually evolved into shooting up heroin after his pill dealer went to jail. Streeter overdosed seven times. He went to rehab seven times. He's been homeless and he's lost good jobs. But today he is gainfully employed by Indiana Center for Recovery, based in Bloomington, as an outreach coordinator. He's also a recovery coach.
Streeter told the crowd Thursday night how he turned his life around. He lives in Indianapolis and pays his own bills. "I just got a new car and it's fast and I drive it fast, and I can do that because I don't have a bunch of heroin in my car," he said. Streeter also provided Narcan kits to those who wanted them.
But Streeter has told his story many times to many people during his travels around Indiana, trying to help people who want to get help. At Thursday night's event, the room got to hear the story as seen from the eyes of his mom.
Jen Streeter and Jennifer Hope started the support group "The Mom of An Addict." Her journey to helping people started when she learned how to stop enabling her son.
"We endured seven overdoses," Jen Streeter said Thursday. "Every time we'd leave a sober house, I felt so excited, like this was the time. I believe he was committed every time," she said. "I mean, we even sent him out of state to live and that didn't work either."
She said she and her husband would take Tommy to rehabs, usually as ultimatums because they couldn't let him stay at their house and do what he was doing. She recalled a friend telling her about a vacation she was getting ready to go on.
"Quite honestly, hell would have been a vacation to me. I'd have packed my bags and gone," she said of what her son and family has gone through. There were times when Tommy wasn't allowed at any of his family members' houses or invited to family events.
Then she told a story about the last time. She told the room how Tommy had stolen her and her husband's debit card.
"My husband and him had a little altercation, to put it nicely," she said, adding that was the first time she didn't stop her husband from kicking Tommy out. "I didn't say, 'oh no, he's not going anywhere,' or 'things will be fine,' I let him go."
But then she told a story about an animated movie called "Open Season" and a big bear in the movie that wears a tiny backpack. Jen Streeter is a mother and a grandmother. She said she was looking out at Tommy walking away and that's what he reminded her of because he was wearing just a little backpack. She said she was still yelling out the front door at him, "Tommy do you want a ride? I'll take you!" because she "still didn't get it."
Eventually, she and her husband would end up taking Tommy back to rehab in Indianapolis. She said when she left the rehab, a rehab center she'd been at three or four times before, "I just sat down on the concrete sidewalk and I just cried."
"One day, I just knew, I couldn't help him. And I hoped and I prayed one day I'll be able to breathe," she said. That day for her was the day everything clicked. The day she stopped enabling him, for the first time.
"If I gave him $20 for gas or $10 for McDonald's, I knew it wasn't going to that," she said. "I couldn't keep enabling him, because if he died with that money, I'd be laying dead next to him."
Jen Streeter did recovery coach training with her high school friend and executive director of A Bridge To Hope, Kevin Haines. Then she introduced Hope to the room. Hope, the co-founder of The Mom of An Addict, said "sometimes you just feel like you're supposed to do something," so she and Jen Streeter acted on it and formed the group. It's a group of parents, by parents and for parents. More information can be found at www.themomofanaddict.com.
The room also heard from Michelle Weidenbenner, who started the local Parents of Addicted Loved Ones.
She told a story of her son and daughter-in-law being addicts, who are now in recovery.
"When my granddaughter was 3 years old she was staying the night at our house and I put her to bed and she started screaming when I shut her door," Weidenbenner said. "She said, 'Mom locks me in my room at night.'" Weidenbenner said her son of course denied this when she asked him about it.
"When her sister was 2, she butt-dialed me in the middle of the afternoon," Weidenbenner said of her other grandchild. Weidenbenner kept asking the 2-year-old, "Where's mommy?" She called her son who was at work and asked his permission to go over to his house to check on things. When she walked in, her granddaughter was naked and jumping up and down on top of her mom on the couch. Weidenbenner's daughter-in-law was completely out of it.
"This is what happens when children are living with addict parents. I had 10 years of seeing them go through drug addiction," she said. But she also went through it, too, in her own way struggling to understand how to help.
"We didn't cause it, we can't cure it, but how we respond to our loved ones matters," Weidenbenner said. Then she talked about PAL. It's a group that meets from 7 to 8:30 p.m. Thursdays at The Hub, 1200 Kings Highway, Winona Lake. It's a group for parents to get educated and to talk freely, and without judgment, about what they're going through; not about their addicted loved ones, but about what help they need to get through it, too. More information about her group can be found at www.palgroup.org.
"One person really can make a difference," she said. "But a lot of people can make a movement."
For Haines, it's about connecting people who want help to the right resources. Having those resources available in the community is the problem.
"We tried to bring a transitional housing to the area and it was met with hostility," Haines said, adding that the community's fears were unfounded. Those fears were expressed to the city council and sure enough, the halfway house got shot down, Haines said.
He encouraged people to support projects and programs when they come up. He said this community needs more recovery coaches, more services and more halfway houses.  The need is here, the facilities are not.
To connect with A Bridge To Hope for resources or to become a recovery coach, call 855-807-4673 any day, any time.
To get help or learn more, Tommy Streeter can be reached on his cellphone at 574-253-3189 or at tstreeter@treatmentindiana.com.
9.1% of the population has substance use disorder, Hope said. "That means 7,100 people in our area. When the parents become educated, interaction with the child can go from confrontational to encouraging."