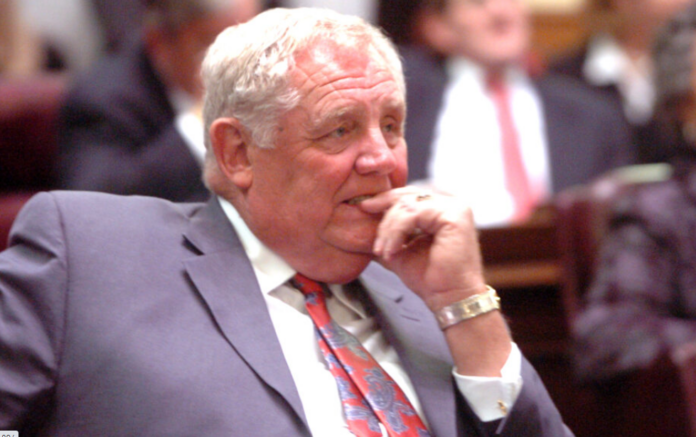 By Leslie Bonilla Muñiz

Indiana Capital Chronicle
LAGRANGE — Longtime former lawmaker and law enforcement officer Bob Meeks — who became known for warning his colleagues, "There is no money" during budget discussions — died Wednesday. He was 89.
Meeks, a Republican, served in Indiana's Senate for two decades beginning in 1988. His district included parts of Kosciusko County.
As chair of the powerful Appropriations Committee, he was a key architect of multiple two-year state budgets.
That included a Gov. Mitch Daniels-era budget wrenching Indiana out of the red — a deficit and backpay that topped $1 billion — according to Goshen News.
Meeks retired from the Legislature in 2008, citing health concerns. He dropped a re-election campaign to do so.
"I know I don't want to die on the Senate floor. I want to go out when I'm at the top of my game," he told KPC News at the time.
Long career
Meeks briefly served in the U.S. Army, 1954-1956, then went into law enforcement — in a career that lasted 25 years.
Meeks spent four years with the Allen County Sheriff's Department and 21 with the Indiana State Police. It was then that he joined the Fraternal Order of Police, the 355,000-member national law enforcement group.
Afterward, he founded a security company.
Meeks and wife, Carol, lived in rural LaGrange County. A large family survives him: Carol, four children, five grandchildren and five great-grandchildren, according to the obituary.
His brother, state Sen. Charles "Bud" Meeks, previously died in 2004 after a lengthy battle with cancer, according to the Herald-Times. Another brother, Frederick, also preceded him.
The Indiana State Police Post on the Indiana Toll Road was dedicated in his honor, and he also received a Sagamore of the Wabash Award from Daniels.
A memorial service is set for 11 a.m. on Friday, May 12 at the Mt. Zion Lutheran Church, 797 N. Detroit St. in LaGrange. The American Legion's local unit will provide military rites, the obituary notes.
* * *
The Indiana Capital Chronicle is an independent, nonprofit news organization dedicated to giving Hoosiers a comprehensive look inside state government, policy and elections. The site combines daily coverage with in-depth scrutiny, political awareness and insightful commentary.
You can read the original version of the story here.