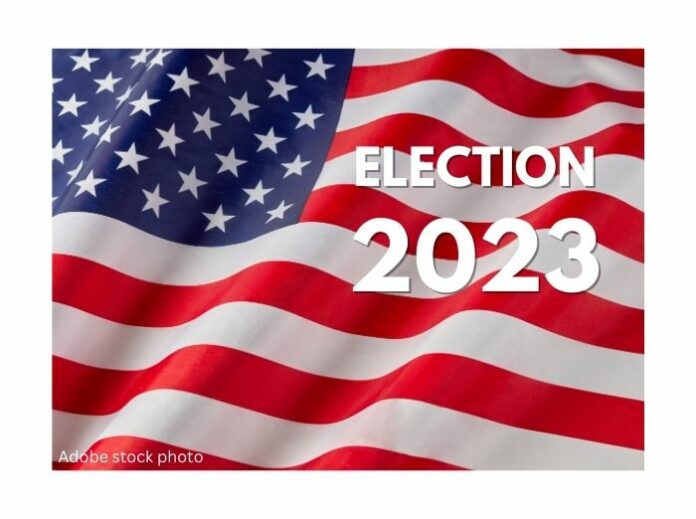 By David Slone
Times-Union
WARSAW — One clerk-treasurer up for re-election against a town councilman won in Tuesday's primary election, while another incumbent clerk-treasurer did not.
Virginia Cazier, Syracuse clerk-treasurer incumbent, received 122 votes to win the Republican primary for clerk-treasurer, beating out Larry Siegel, who received 43 votes. Siegel is a member of the Syracuse Town Council.
In Winona Lake, incumbent Clerk-Treasurer Laurie Renier received 163 votes, but Town Councilwoman Heather James received 346 votes. James originally had filed to run for re-election as a District 4 councilwoman but changed to run for clerk-treasurer. Barry Andrew is unopposed for the District 4 seat.
As of Tuesday's primary, there were no Democrat or other party challengers for the clerk-treasurer positions for this fall.
Cazier said she was excited to win and excited to be able to serve the town she loves for another four years. Though the race got a little warm at times, she was confident on the result.
"I always felt like I was going to win," she said. "I had tons of support."
She also said, "I always did my best to do good at my job. I'm just happy that I won."
James did not respond to phone calls and a text message for comment by press time Tuesday night on her election win.
Incumbent Nathan Scherer won the Republican primary for Syracuse Town Council District 4. He received 83 votes, with challengers Brian Woody receiving 40 and David Rosenberry garnering 31.
In a telephone interview after the results were in, Scherer said he was thrilled to have the opportunity to continue the momentum he's had since he was caucused in on Feb. 7.
The Republican caucus was held to fill the vacancy on the Syracuse Town Council after Larry Martindale resigned. Scherer defeated Woody and Rosenberry in that caucus, too.
Scherer said for not having much time under his belt, he was glad people could see his passion for the job. He wants to continue to help create nice things and a good life for the residents of Syracuse.
Two other Syracuse Town Council seats were up for election, but the incumbents were unopposed. Cindy Kaiser received 137 votes to retain her District 3 position, while Bill Musser received 141 votes for his District 5 seat.
The three Winona Lake Town Council seats up for election this year also were unopposed. Andrew received 418 votes for District 4, Ashley McGinnis received 399 votes for District 2 and Austin Reynolds received 412 votes for District 1.
There were elections for the city of Nappanee, but only one contested race and no eligible voters in Kosciusko County from Jefferson Precinct voted in Kosciusko County for the election.
The contested Republican race was between Jeremy Beach and Dustin Geyer for Nappanee Common Council District 4. Geyer received 121 votes in Elkhart County, with Beach receiving 35.
There were 5,922 registered voters eligible to vote in Tuesday's city elections. With only 679 people voting, that's a voter turnout of 11.47%.
There were two polling locations for the election – one in Syracuse and one in Winona Lake, though eligible voters could vote at either place. Each polling location had four voting machines.
County Clerk Ann Torpy said this was not the smallest election she's ever seen. One year, there was an election only for the city of Warsaw and only four or five machines were used at the polling location.
"I would say most of these primaries are smaller," she said.
She noted turnout was smaller than most other elections, with turnout being around 9% at 2 p.m. Turnout for the Winona Lake election was larger than for Syracuse.