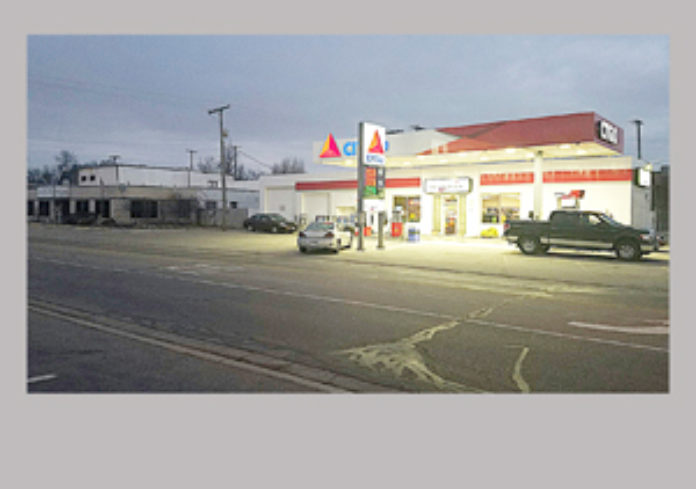 Freedom Oil wants the alley between its location at 425 Argonne Road and Our Father's House, 401 Argonne Road, vacated for the expansion of its convenience store.
It also wants the city to designate the properties as an Economic Development Target Area. By designating the property as such, Freedom Oil could file for a tax abatement on real property improvements.
Freedom Oil's expansion would total about $1.8 million and would have about nine full- and part-time employees. Freedom Oil has an option to buy the Our Father's House property, and Our Father's House plans to move to the Lakeview Shopping Center on Winona Avenue.
The Economic Development Commission held a meeting on the matter Thursday and approved a favorable recommendation to the council. City Planner Jeremy Skinner and Mayor Joe Thallemer spoke in favor of Freedom Oil's plans at Monday's Warsaw City Council meeting.
The council approved a resolution for advertisement and set a public hearing for 7 p.m. Feb. 21 for the alley vacation and designating the properties as an EDTA.
Freedom Oil Managing Member Greg Cobb said the current convenience store and Our Father's House will be demolished, with a new store similar to the one in Leesburg built on that property. At the Economic Development Commission meeting Thursday, he said the plan was to have the project completed by October.
In other business, the council:
• Reviewed the 2016 Warsaw Police Department annual traffic report.
The department investigated 1,027 motor vehicle crashes last year, up from 980 in 2015.
• Reviewed the 2016 WPD criminal statistics.
Capt. Kip Shuter said the department took 2,375 incident reports in 2016 and made 886 criminal arrests. The month with the most criminal offenses was April with 214, while in 2015 it was July with 210.
Calls for service handled just by WPD totaled 22,019 in 2016, averaging 60.33 calls per day and 2.51 calls per hour. In 2015, calls for service totaled 25,978.
Three K9s were involved in 333 service calls, up from 260 in 2015. Of those 333 calls, 274 ended in arrests; 161 were felony and 119 were misdemeanors. There was one dog bite.
On dealing and/or manufacturing drugs, there were 92 cases, with methamphetamine totaling 52; marijuana, 9; cocaine, 3, salvia or synthetic cannabinoid, 4; and a schedule I, II, III or IV controlled substance, 24.
"One thing I wanted to highlight and note is that there are 10 law enforcement agencies within Kosciusko County. We are just one of those, but we made 45 percent of the felony arrests that went through the prosecutor's office in 2016," Shuter said.
Thallemer asked Shuter if he'd seen a drop in meth labs with the recent legislation that was passed last year. Shuter said he could look into that so that the mayor could compare numbers to previous years.
• Looked over the Warsaw Parks & Recreation 2016 Year in Review report.
The report includes projects completed in 2016, equipment purchases and activities statistics.
The events with the largest attendance were the country music concert with over 7,500 people; blues and barbecue concert, 5,000; classic rock concert, 6,000; the nine Central Park concert series, total of 2,250; Light Up the Night, 2,500; Fall Family Fun, 1,200; and Family Carnival, 3,000.
Total participation, according to the report, was 29,398.
• Heard the city's quarterly franchise fee received from Mediacom for Oct. 1 to Dec. 31 totaled $373.88.
• Reviewed the 2016 encumbered purchase order report. These are funds allocated in 2016, but carried over to 2017.
In the general fund, encumberances totaled $403,539.84; fire territory, $48,413.76; motor vehicle highway fund, $91,981.45; park, $92,846.77; cemetery, $4,082.20; aviation, $33,793.19; economic development income tax, $413,900.87; redevelopment general, $896.32; cumulative capital development fund, $217,952.50; fire equipment, $674,235.24; city capital projects, $3,367.57; redevelopment allocation, $39,300; redevelopment north, $950,944.14; wastewater, $90,055.91; wastewater depreciation, $188,463.26; cemetery perm fund, $48,372; and stormwater, $68,524.18.
The total is $3,370,669.20.
Clerk-Treasurer Lynne Christiansen said encumberances will be brought back before the council in July for reductions in the budget next year."
• Accepted the conflict of interest disclosure for firefighter Fred Parrett.