Update: The two children have been found safe in Goshen. No further details are available at this time.
Original Story:
The Berrien County Sheriff's Office is asking for the public's help in finding two children taken against a court order by their parents:
Hailey Hall, 12. She's described as approximately 5 feet tall, weighing 100 pounds with brown hair. Scottie Hall Jr, 8. He's described as approximately 4-feet-6-inches tall, weighing 65 pounds with brown hair.
On Tuesday, Feb. 7, the children were placed in protective custody and placed in foster care.
Around 8 p.m., the parents of the children, Scottie Allen Hall, 34, and Courtney Gibson, 27, took the children against the court order from the 600 block of Nate Wells Sr. Dr. in Benton Harbor and possibly fled to Indiana.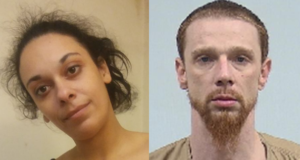 The parents may be driving a tan 2001 Lincoln 4 door sedan, with Indiana plate XLL 123.
Anybody with information about the children, parents or the vehicle involved is asked to contact the Berrien County Sheriff's Office Detective Bureau (269) 983-7141, ext 7224 or Berrien County Dispatch (269) 983-3060