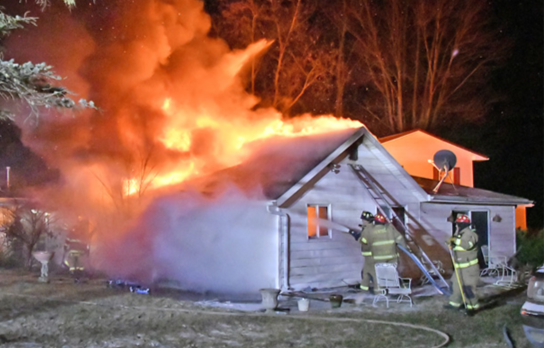 By David Slone
Times-Union
CLAYPOOL – A furnace in the attic of a home on Beaver Dam Lake in Claypool is believed to be the cause of a fire Tuesday morning.
Burket Fire Department was dispatched at 5:52 a.m. Tuesday to 7272 W. Nebraska St., according to Fire Chief Kevin McSherry. The home is owned by Greg Tann.
McSherry said Tann was home at the time of the fire and got out without any injuries, but a cat is unaccounted for.
The home was built onto several times since the early 1950s. "It's a very old house," he said. An attached garage was not involved in the fire as firefighters were able to get the fire stopped before it got to the garage, but the living area was destroyed.
There was a lot of wind off the lake as the home was on the lake, and the wind fed the fire. Temperatures also were in the low 20s.
Assisting at the scene were Mentone, Silver Lake and Henry Township fire departments. They were on the scene for approximately three hours.