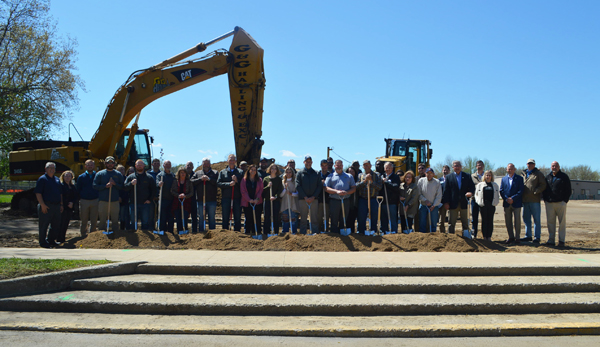 With the first house expected to be up as soon as September, a groundbreaking ceremony for Gateway Grove was held Friday afternoon.
Representatives of the developer, Groninger Group; the builder, T.L. Jackson Construction Inc.; the excavating company, G & G Hauling & Excavating; Kosciusko Chamber of Commerce, the city of Warsaw and State Rep. Craig Snow attended.
The 72-unit residential development is along North Union Street at the end of West Main Street – the former location of Madison Elementary School and Gateway Education Center. Groninger Group bought the property in summer 2020 from Warsaw Community Schools for $100,000 plus a $20,000 endowment toward WCS's trade program.
In comments before the "turning of the dirt" ceremony, Cary Groninger thanked everyone for coming out and said, "I'd like to welcome you to what will be the gateway to Gateway Grove. Pretty much Main Street will continue on right through the property and end up with houses on both sides that tie in to Main Street."
He said the "vision" for the property started about a year ago and was his daughter Leigh's idea.
"We saw a neighborhood close to this up in Michigan and said, 'Hey, Dad, you need to do this in Warsaw.' About that time, the property came up for sale from the school and here we are almost 12 months later that we're breaking ground on a project that we know our community needs and we're excited about," Groninger said, noting he was there with three generations of Groningers, including his dad, children and a niece. "It's just pretty cool to see the Groninger family kind of rallying around this project and doing something that we can all be proud of as a community and family, and also provide housing that is much needed in our community."
He said the residential development was pretty cool because it was going to create a community within the city. Neighbors will be able to interact with each other, and all the houses will have front porches and sidewalks. There will be community green areas and a dog park "and everything else that we can do to try to create that active lifestyle that I think so many of our young people are calling for. This is going to be a neighborhood that is going to set the standard for housing in the Warsaw, Kosciusko County area," he said.
The neighborhood will be about 3-1/2 blocks from downtown Warsaw.
"Our tagline is 'Close to nature, close to town, close to home.' You can have all those things within walking distance, which I think is really cool," Groninger said.
After Groninger recognized the G & G team, Brad Jackson said, "T.L. Jackson is honored to be a part of this. I think it's going to be cutting edge for our community, something that is unique. We'll bring the same quality level we've been known for for over 40 years to these projects."
Jackson said the houses are named after trees.
The Maple is a cottage-style 1,760-square-feet home that features a large front porch with a two-car garage, mud room, laundry room, 9-foot ceilings on the main floor, three spacious bedrooms and 2-1/2 baths. Some will have a cozy fireplace, along with a generous-sized kitchen that features a large walk-in pantry, he said. Cabinetry will be all wood with granite countertops, and throughout the main floor will be luxury vinyl planked flooring.
The Willow is a 1,450-square-foot two-story home, and there will be two townhouse options. The Aspen is 1,230 square feet, while the Sycamore will be 1,320 square feet.
The single-family homes will start at $299,900 and the townhouses will start at $259,900, he said.
Jackson then recognized members of his team, which includes his nephew Luke and sons Ben and Sam Jackson, who all serve as superintendents.
"Cary, it is an honor to be a part of your vision for Gateway Grove and I am thankful for our friendship. I look forward to a good partnership on this," Jackson said.
Groninger said he was really excited about the project. "The total of this could be nearly an $18 million investment in this downtown area for the city, so this is something that, we're taking a property that has been a school for as long as I think everybody here can remember and turning it into something that is going to add to the tax rolls and give that housing that our community needs," he said.
Warsaw Mayor Joe Thallemer said the project meant a ton to the city and community. He said the project "gives you a really good idea of how quick private enterprise can work compared to when government tries to do something. It usually takes a lot longer. These guys are moving. Their first house will be ready for the Parade of Homes in September."
Thallemer continued, "I can't stress enough having people that live, and work, and govern and play and worship in our community doing this project, creating a brand-new neighborhood in a somewhat historical area … It's going to fit."
He said he was thrilled about the development even without the first dirt being turned.
"I'm really excited. Seventy-two units and just a great, great addition," Thallemer finished.
A digital brochure on Gateway Grove can be found online at http://tljackson.com/gatewaygrove/