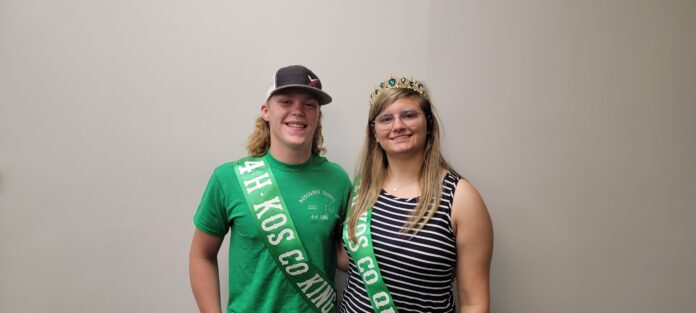 Last week, Cameron Zimmerman and Arrington Krull from Wawasee High School were named the Kosciusko County 4H king and queen.
Cameron Zimmerman is an eight-year 4H member with the Milford Helping Hands, where he has held he offices of recreation officer and junior member on the swine committee. His projects have included swine market litter, beef, beef feeder calves, consumer clothing, create-with-a-mix, foods, sewing, photography, sport fishing and shooting sports.
Cameron plans to attend an agriculture college on either a wrestling or football scholarship with the goal to take his current swine operation to the next level and become nationally known for his pigs. He also plans to coach football or wrestling and start preaching at a church.
His parents are John and Peg Zimmerman. His dad grew up with commercial hogs and after he and his sister came along, they wanted to be more involved on the show aspect rather than the commercial aspect, so they are "first generation of the show aspect in the family."
Arrington Krull is a nine-year 4H member with Milford Helping Hands. Her projects have included beef, goats, swine, photography, miscellaneous crafts, garden, fashion review, wearable arts, gift wrapping, foods, Legos, creative writing, blacksmithing and verbal communications.
She has held the offices of reporter, secretary, treasurer and inspiration leader in her local club. She plans to attend Purdue University to study either animal or plant science and entrepreneurship and come back to the family farm as a seventh generation farmer and raise hogs, goats and row crops.
Her parents are Shawn and Lissa Krull, and she says she got started with animals at a young age. She said she asked her dad to buy a goat, "bugging him about it until he finally caved," and took her to a goat sale where she picked out her first goat. She now runs a herd of 65 goats.