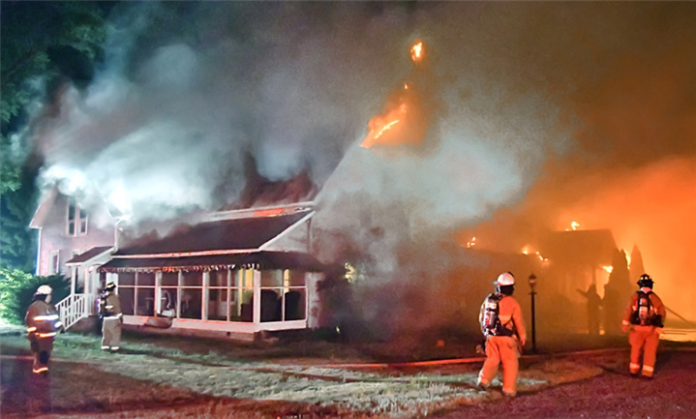 A home originally built in 1861 was a total loss after a fire Tuesday morning, and a little girl may have saved the lives of those living in the home.
County records indicate the home, at 8229 N. Old Ind. 15, Leesburg, is owned by Peter T. Gawthrop, Syracuse.
Milford Fire Department Chief Virgil Sharp said they received the call about the fire at around 1:30 a.m. Tuesday. Upon arrival, the home was fully engulfed. It had got into the attic area and then the roof. "Pretty much the whole house," he said.
The main farmhouse was built in 1861, but there was an addition added on off the backside. Sharp said two families rented the place, one in the main part of the farmhouse and the other in the addition. He wasn't sure how many people lived there but estimated four to five.
"We believe the fire started where the new addition and the original house met," Sharp said. "The cause is still unknown."
He said the home and the contents are a total loss, though the families were able to save a few valuables.
Don McCune, Kosciusko County Sheriff's Office, said one of the children – who was probably 8 or 9 years old – was the first to wake up and alert everyone in that section of the house to the fire. An adult then woke up the residents in the other part of the house.
He said he didn't get to talk to the little girl, but she apparently was just spending the night there. He also didn't get her name.
Along with the Milford Fire Department, responding agencies included the Plain Township, North Webster-Tippecanoe Township, Turkey Creek, Warsaw-Wayne Township and New Paris fire departments.  Foraker Fire Department provided manpower and Atwood Fire Department provided tankers. Sharp estimated that there were 40 to 50 firefighters on scene.
He said they were on scene until 6 or 6:30 a.m., but a few hot spots flared up after 7 a.m. and Milford Fire Department went back and took care of those.
There were no injuries to any of the family members as they were all able to get out, Sharp said. No firefighters reported suffering any injuries.