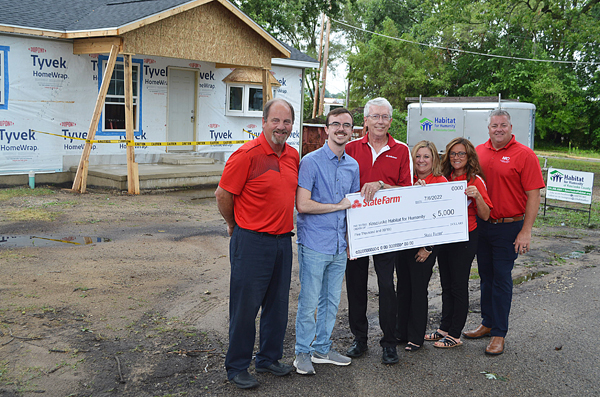 Local State Farm agent Ot Schroeder, of Warsaw, demonstrated what it means to be a good neighbor by helping several organizations in the community, and that resulted in a $5,000 grant to Habitat for Humanity of Kosciusko County.
Schroeder selected Habitat for Humanity as the recipient of the State Farm grant after he was recognized for being a 100 For Good Champion. The check presentation was made Wednesday morning at the current Habitat home build at 625 N. Ellsworth St., Warsaw, for Missy Francis.
According to a news release from State Farm, "Giving back, doing good and being there when it counts are part of the State Farm culture. We started 100 For Good to spread the Good Neighbor spirit through our neighborhoods by encouraging employees, agents and community partners to log their acts of good and see the collective community impact. State Farm employees and agents have each been challenged to perform 100 acts of good by our 100th anniversary in June 2022."
State Farm is celebrating its top 100 agents who have logged the most acts of good in 100 For Good, the release states. To celebrate this accomplishment, State Farm honored 100 For Good Champions, like Schroeder, as follows: recognized 100 For Good Champions throughout internal State Farm communications; gave a $5,000 donation to a qualified nonprofit of the 100 For Good Champion's choice; and invited 100 For Good Champions to participate in a check presentation to the selected nonprofit.
Before the check presentation Wednesday, Schroeder said, "This goes back to September or October. The company approached the agents and said, 'Hey, we have our 100th anniversary in June. We would like all agents to try to do 100 acts of good.'"
In April, State Farm had a cut-off date for the 100 acts of good, though the agents weren't told when that cut-off date was.
"But it just so happened then that I was in the top 100 out of the 19,000 agents," Schroeder said. Some of those agents may not have participated because the acts of good had to be recorded. "It's self-reporting. We just talked about things we had done. I talked about 4-H and FFA members that I've helped over the time. Participating in church choir. Of course, Optimists is a big thing for me to participate in. But, just other general activities here in the community. So those are the acts of good I tried to complete."
Schroeder said he chose Habitat for Humanity to receive the grant because he got involved with them a little bit because Habitat for Humanity of Kosciusko County Executive Director Ben Logan reached out to him and they met for lunch.
"Then I got some of the Optimist members to come out and do a build and we're going to come out and help with the build again here in another week or so. It just was a natural fit. They needed some funds for building materials, so I thought the $5,000 would be great for them," Schroeder said.
Logan said, "This $5,000 from State Farm is going to go straight to buying building supplies. And as everyone knows, costs are up, fuel prices are up, everyone's feeling it, especially on the consumer side. And those $5,000 is going to go straight to building supplies. So, you think about the cost of lumber and nails and windows and doors and things like that, it's going to help offset those costs. Kind of buy the materials our volunteers are working with."
He said the grant is a "huge" help to Habitat for Humanity. "And the more businesses and people groups we can get involved in Habitat, the better. We're very happy for this gift," Logan said.
Mike Finn, State Farm district manager, said, "For us here at State Farm, we've got the local presence in the communities with our agents. But to see our agents and their teams out and about, helping the community; and then with the partnership from State Farm to provide some additional funding, that's what it's about for us: Being in the community and being able to give back to the people that are in the community and need it the most."
Habitat for Humanity is probably one of State Farm's bigger volunteer events, Finn said. "We've done it all around the district, so we're definitely not new to the Habitat side of things. When you think about how intentional Habitat is to provide so much for those that need, it lines up directly with State Farm and what we want to do and the way we want to give back to the communities," he said.
For more about Habitat for Humanity of Kosciusko County, visit the website at https://kosciuskohabitat.org/.
For more information about State Farm, visit the website at www.statefarm.com.