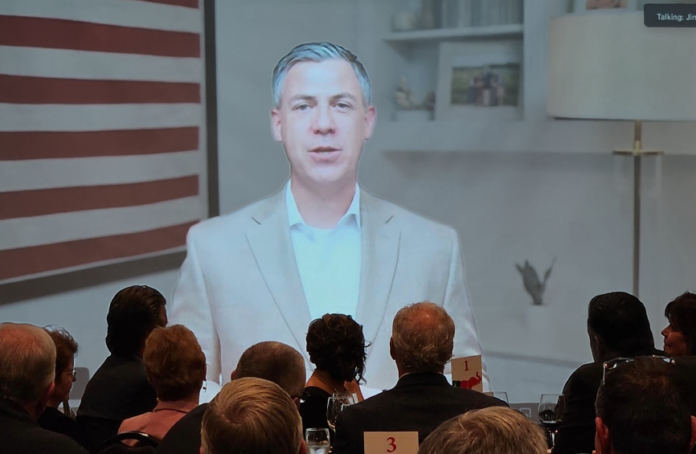 By Dan Spalding
News Now Warsaw
NORTH WEBSTER — Kosciusko County Republicans enjoyed a packed house at the Owl's Nest in North Webster Thursday for the annual Hall of Fame Dinner, but two of the biggest guests were unable to attend in person.
Both congressmen Jim Banks and Rudy Yakym still got their message across via a video feed.
Yakym, representing the the 2nd District, celebrated the arrival of the new House Speaker, Mike Johnson.
"He's a rock solid conservative. A Christian. One of the most solidly fundamental conservative Christians we've had in at least one hundred years and he's already off to a running start," he said.
Banks, the 3rd District lawmaker who is running for the U.S. Senate, trained his sites on President Joe Biden and the Republican efforts to impeach the Democrat president even though the issue seems to have fallen quiet several weeks ago after just one hearing.
"It is my goal and my hope that we impeach Joe Biden before the end of this Congress to make sure that no other president in the future of this great country ever thinks they can get away with what this president and his family have done to sell out our country in such a big way," Banks said.
The GOP dinner also honored two elected officials. Kimberly Cates was named the Women of the Year while State Rep. Craig Snow was honored as the Man of the Year.
The aware established a year ago to honor the late Jackie Walorski was given to longtime Republican leader Jean Northenor