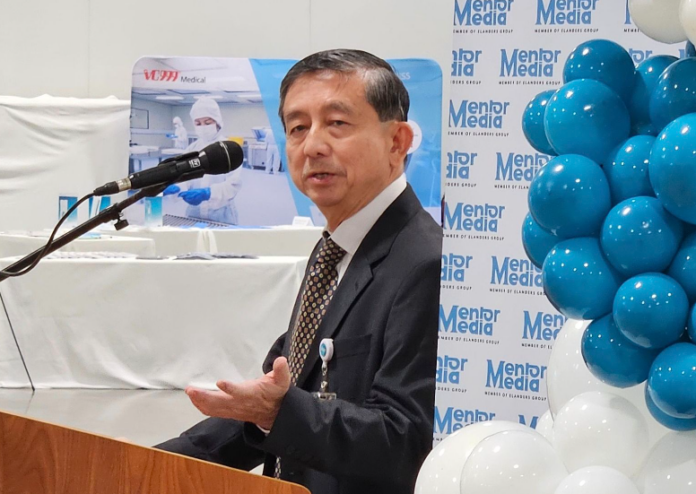 By Dan Spalding

News Now Warsaw
WARSAW – Warsaw Mayor Joe Thallemer called it the epicenter of orthopedics, and on Thursday, the newest corporate resident — with facilities around the world — embraced its new address.
Mentor Media on Thursday celebrated its venture into the orthopedic capital with a celebration with the opening of a new 30,000 square foot sterile packaging facility on the west side of the city in the growing Warsaw Technology Park.
"What you are witnessing today is a combination of work and support from the city, the state of Indiana and the KEDCo organization," said Lim Kok Khoon, president and CEO of Mentor Media, which is based in Singapore.
"We are definitely, without question, very happy to be here," he said.
He went on to say they believe they can bring value to the existing "ecosystem" that makes up the hub or medical device manufacturers in Warsaw.
Specifically, what they hope to capitalize on is the company's unique packaging system that promises device makers a 10-year shelf-life for its products.
Magnus Nilsson, president and CEO of Elanders, the parent company of Mentor Media who flew in from Sweden, thanked everyone and was playfully blunt about their expectations.
"Next time I am here, I also hope everything is running smooth. I met some potential clients here today so I hope we can keep us (in mind) so that I can get some return on my investment. Thanks everyone," Nilsson said.
David Rosenberg, the Indiana Secretary of Commerce, celebrated the success Warsaw and the state of Indiana is experiencing.
Rosenberg conveyed Gov. Eric Holcomb's mantra: "'We like to take Indiana to the world and ring the world to Indiana,' and there's no greater personification of that than here in Warsaw with companies from Switzerland, Germany, Singapore partnering here with the Indiana Capital of the World."
He also pointed that manufacturing growth in Warsaw is part of a statewide trend.
"Indiana's had huge momentum over the last two years. Just in the last 18 months, Indiana has been named the No. 1 place to start a business by Forbes. We've had $33 billion of new capital expenditures in the state. That's a figure that would normally take six years go achieve, but we've been able to do it in six months," Rosenberg said.
"This capital commitment is bringing high paying jobs — over 20 percent over the national average, creating real generational change," Rosenberg said.
Thallemer, who has directed growth of the Warsaw Technology Park over his 12 years in office, gave a quick recap on how the tech park has come together and the recalled when he first sat down with Mentor Media leaders who said they wanted a first class facility in the city.
He said the company wanted the entire orthopedic industry to know about their proficiencies in sterile packaging had been developed.
"They wanted to be in the place that the world looks to for orthopedic excellence," Thallemer said. "What they were most passionate about that morning was they wanted a Warsaw address."
"On behalf of the orthopedic capital of the world, we are happy to welcome you and your entire Mentor Media team, to to 1395 Polk Drive, Warsaw, Indiana, 46582."
"You're going to love the neighborhood," he added.