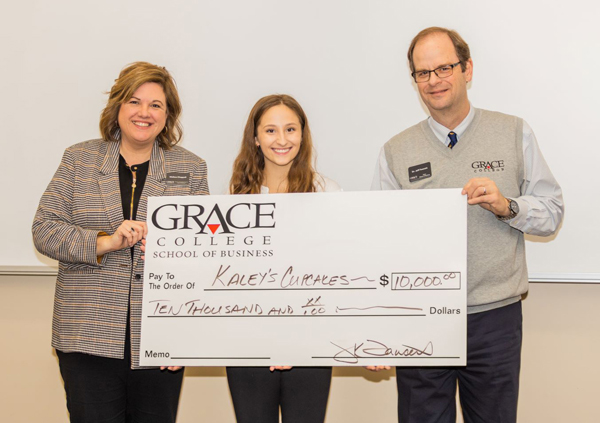 WINONA LAKE — Grace College entrepreneurship major Kaley Dawson was awarded $10,000 for her business, Kaley's Cupcakes Co., at the 10th annual Grace College Business Plan Competition, which took place Jan. 20.
Dawson, a senior from St. John, has plans to use the $10,000 to expand her custom cake, cupcake and sugar cookie business.
"Making custom cakes and cupcakes has been my passion for as long as I can remember," said Dawson. "I've actually owned Kaley's Cupcakes for over three years, and I was looking for a way to grow my business."
The Business Plan Competition proved to be the perfect next step for Dawson, who had already purchased a vintage camper trailer to sell cupcakes out of at farmer's markets, weddings and other events, according to a news release from Grace College. Dawson plans to use the $10,000 to remodel the trailer and purchase the equipment necessary to launch the business.
As Dawson prepared for the competition, she was supported by the local Service Corps of Retired Executives (SCORE) Team.
"The SCORE mentors were so helpful throughout the entire class and presentation," said Dawson. "The business plan competition walks you through everything that goes into planning a business, including writing a detailed business plan and thinking of all of the details to successfully present your business idea. It is an invaluable learning experience for students."
Dawson's long-term goal is to open a storefront for Kaley's Cupcake Co., but in the meantime, Dawson sees the money that she won in the business plan competition as a "perfect stepping stone" to get there. "I can't wait to see how Kaley's Cupcake Co. grows in the future," Dawson said.
"It has been a joy to see the vision and dedication that Kaley has shown in developing her business," said Melissa Chappell, assistant professor of management and interim director of the William P. Gordon Institute for Enterprise Development at Grace College. "For all of us in the school of business who have walked alongside her in this journey, we are thrilled to see her business dreams come true."
The Grace College Business Plan Competition was sponsored by Beers Mallers Backs & Salin, Wildman Business Group and Horizon Bank and is one of many opportunities Grace College provides its students to turn their dreams and goals into a reality, the release states.
For more information about the School of Business, visit www.grace.edu/academics/undergraduate/academic-schools-departments/school-of-business/.