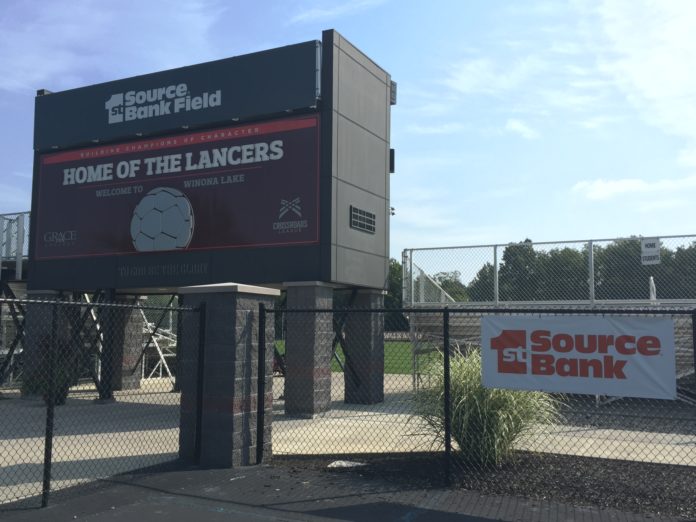 WINONA LAKE – On Saturday night, Grace College's soccer stadium was officially renamed 1st Source Bank Field.
1st Source Bank, a proud supporter of the local community, has made a generous donation to support athletic and overall student development at Grace. Because of that pledge and 1st Source Bank's support of Grace's student programs, academics and Lancer athletics, the college was pleased to unveil the new name of Grace's soccer stadium.
"We are thrilled to partner with 1st Source Bank as a campus and in our athletic program. Their support enables us to continue pursuing excellence through the mission of Grace," said Grace Athletic Director Chad Briscoe. "This relationship shows a commitment to impacting our community by providing an avenue for positive growth. 1st Source Bank is a recognized leader in our community, and we look forward to working with them for many years to come."
A ceremony and presentation were held before Saturday's men's soccer match against Bluefield. 1st Source East Region President Bill Burton joined the bank's Vice President John Elliott and Warsaw City President Doug Baumgardner in presenting a ceremonial check to Briscoe, Grace Vice President for Advancement Drew Flamm, Grace Vice President for Academic and Student Services Jim Swanson and Grace Board of Trustees member Steve Miller.
"It is an honor to partner with Grace College and present 1st Source Bank Field to the campus and the community as a whole," said Baumgardner. "1st Source Bank Field will be a welcoming place for student athletes to develop their skills and for area residents and students to enjoy watching Grace Lancer sports teams compete for many years to come."
Grace College President Dr. Bill Katip expressed appreciation for 1st Source Bank's long-term and important support of the college.
"We are proud to have the 1st Source Bank name on our soccer stadium," Katip said. "I am thrilled that we can expand our partnership with 1st Source Bank and enhance the relationship with such a first-class organization who shares so many of our values."
Grace's sparkling soccer stadium, which was revamped in 2014, now proudly displays the 1st Source Bank Field logo on the press box at the entrance into the field.