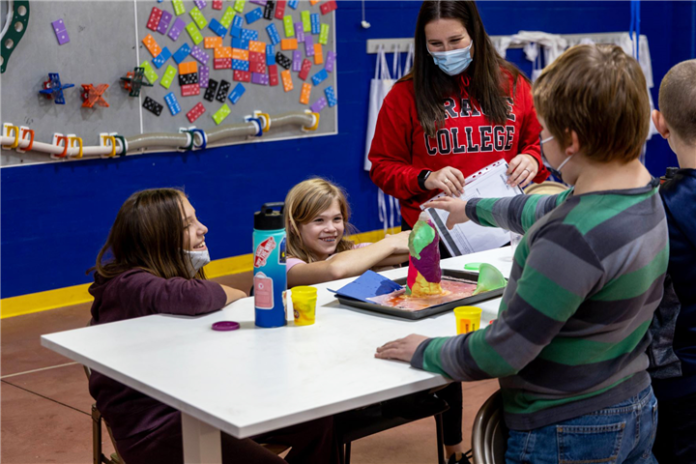 WINONA LAKE — Nearly 20 Grace College education students volunteered their time to help the Baker Youth Club (BYC) facilitate an eLearning day for around 100 K-6 students on Monday.
The Grace students helped with eLearning in the morning and facilitated an afternoon of stations that promote STEM, art and physical education, according to a news release from Grace.
When Warsaw Community Schools implemented regular eLearning days as a result of COVID, the BYC knew there would be a number of kids in the community in need of a safe place to go with eLearning support.
"We decided to open our doors on eLearning days to create a positive experience for those who need extra support in their education," said Tracy Furnivall, executive director of BYC. "We open this service to all elementary students of Kosciusko county. No child is turned away."
Dr. Rachael Hoffert, chair of Grace College's elementary education program and six-year board member for Baker Youth Club, saw eLearning days at BYC as an opportunity for Grace education majors to put their knowledge into practice in a more relaxed setting — and serve the community while doing it.
"At Grace, we stress that we want our graduates to be individuals of character, competence and service. But the service piece is absolutely essential for educators to embody. Teachers are constantly going above and beyond, working after hours and giving themselves to their students. Teaching is about so much more than a paycheck – it's about service. So we, the professors at Grace, really try to model service alongside our students," said Hoffert who also volunteered at the event.
First-year Grace student Sophia Thompson found the experience to be helpful on many levels.
"Helping with the BYC eLearning days is a ton of fun," said Thompson. "We get to facilitate fun activities like volcano experiments and Christmas crafts. It also allows us to interface with educational technology platforms we talk about in class as we help kids with their eLearning. But most importantly, it's about building relationships with the students. It's about growing their confidence, affirming their value and showing them love."
"We look to Jesus as the master teacher and servant leader," said Hoffert. "These eLearning days are a perfect opportunity for our education students to teach and serve a variety of kids with vastly different backgrounds."
Grace College and the BYC partner on a regular basis. Part of Grace's literacy coursework requires students to create lesson plans that they facilitate at the BYC's regular after-school programming.
For more information about the Grace College School of Education, visit www.grace.edu/academics/undergraduate/academic-schools-departments/school-of-education/. To learn more about Baker Youth Club, go to www.bakeryouthclub.com/.