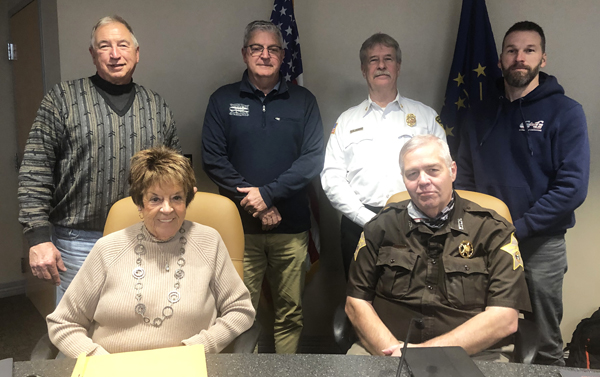 With Mike Wilson retiring as the Warsaw-Wayne Fire Territory chief June 1, the hiring process to find his replacement is in full swing, Mayor Joe Thallemer told the Fire Territory Board Tuesday.
"Our intention is to name that chief the first of the year. We'll have to see how that goes," Thallemer said. "… But Chief is going to stay on through his retirement and assist with the transition. And, obviously, we're still in the process so there's nothing to announce yet, but we've formally made the announcement that Mike has entered the drop program and it's probably time to make that."
Wilson said it's been an honor to be the fire chief of the fire territory.
"The Board has been excellent with me. I really appreciate everything you've done and the support to our direction," Wilson said, asking the Board to wait until its January meeting to appoint the new fire chief as it's required to do annually.
Thallemer said that's what they will do. The January meeting has been moved to 4 p.m. Jan. 10. from Jan. 4.
Thallemer said he really appreciated everything Wilson has done and Wilson was his second fire chief as mayor. He said Wilson has done a "marvelous" job the last seven years.
"We got a lot done. We got a new station built and had our guys trained and equipped and done a great job as we're setting the table to move into the future with our mental health initiative, CARES program and potentially looking at the future of emergency medical services, not knowing where we're going to land. I think it's important we're ready to go, it's time to do whatever needs to happen," Thallemer said.
He told Wilson he's done a great job of "getting us to this point."
Asked by Thallemer what he was going to do in his retirement, Wilson said, "My wife says I can't stay home. I can go work at Walmart."
The provider unit and participating unit executive board appointments were also determined to be the same for 2022 as 2021. The two township appointments are Trustee Jeanie Stackhouse and Gordon Nash, and the two city appointments are Thallemer and Councilman Mike Klondaris. The fifth Board member, agreed upon by the township and city, is Brandon Schmitt.
In other business, the Board approved:
• The acceptance of the Indiana Public Employees' Plan Safety Grant of $1,650 for OSHA training on scaffolding and confined space and fall protection training. The Warsaw Board of Public Works and Safety approved the acceptance of the grant on Friday.
• The grant application to the Kosciusko American Rescue Plan Act Committee, County Commissioners and County Council for $69,513.60 for mobile radios. In a joint meeting Friday, the Council and Commissioners approved the awarding of over $1.9 million in ARPA funds to county emergency services, including the Fire Territory. The Board of Works approved the grant application on Friday.
• Two travel requests, including Drew Shilling to Addison, Mich., for ice rescue training and Joel Shilling and Jason Neher to Lima, Ohio, for a class on structural firefighting.