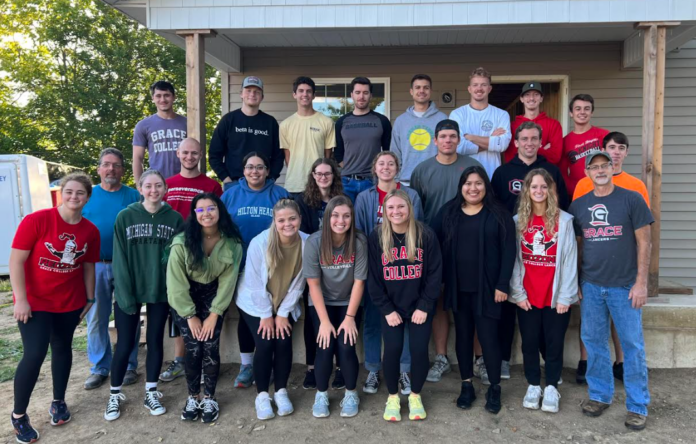 WINONA LAKE — Two days after Grace College's advanced accounting students finished a long day of networking with dozens of accounting firms in the region, they could be found volunteering at Habitat for Humanity's build site in Claypool.
For the past ten years, this has been a tradition for Grace College's Advanced Accounting class taught by Dr. Roger Stichter, professor of accounting.
Following the school's annual Accounting Fair, where many students land jobs and internships as a result of their interviews, Stichter gives his students a break from academic work and teaches them a different kind of lesson — a lesson in service.
"This activity is a way to give back to the community and help students understand that giving back is important," said Stichter. "I want to help them see that there are projects like this that they can be a part of and show them that they can help people. It's giving students a platform to get out into the world and make an impact."
The tradition at Grace aligns with the Indiana CPA Society's "Day of Service," an initiative that encourages accounting professionals statewide to engage in service projects. The Grace accounting program has served several nonprofit organizations through the years, but Habitat for Humanity has been a repeat favorite.
"This has been a tradition with Grace's accounting class over the last several years, and we love seeing such young volunteers out on our build sites," said Ben Logan, executive director of Habitat for Humanity of Kosciusko County. "It is so important to plant that seed of giving back early, and this class is always overflowing with energy to serve others. As a Grace alumnus myself, it warms my heart."
According to the students, the service day also had a significant impact on them. Francisco Rodriguez, a Grace accounting student from El Casar, Spain, said it was unlike anything he had ever experienced.
"Volunteering with Habitat was simply a blessing," he said. "I think we sometimes underestimate our role in helping those in need, and while donations are important, we tend to forget how helpful working on projects like Habitat can be for the community. We must serve because we are commanded by God to help others (Hebrews 13:16) and to love others (Romans 12:10). In moments like this, we show the glory of God through the work of the Spirit in us."
Cade Cummins, of Danville, Illinois, who is studying accounting and working on his MBA through the school's accelerated dual degree program, agrees.
"It is important that we serve our community with the talents and resources that we have been given," said Cummins. "Most of us have been very blessed, and it is important that we give back and help others."
Cummins, a senior, plans to take this perspective with him into the field, as he has accepted a full-time job offer with CliftonLarsonAllen (CLA) in Danville, Illinois, as a tax and audit associate.