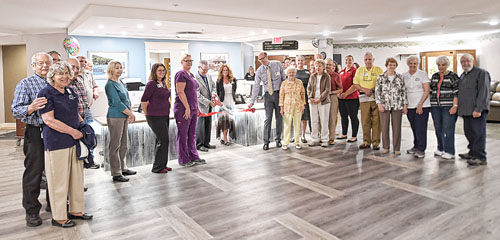 WINONA LAKE – Kosciusko County nonprofit Grace Village Retirement Community recently held a ribbon-cutting ceremony for its new Resident Care Center.
The Resident Care Center will serve as a central hub from which nursing staff, physicians and therapists can serve the needs of patients in the skilled nursing facility, according to a news release. The Resident Care Center is a completely new design from the previous nurses' station, making it easier for staff and residents to have visual contact and opening up the hallway space for safer movement within the facility.
"Our No. 1 priority in designing the new Resident Care Center has been patient safety," said Tammy Smith, Grace Village's director of advancement. "The new open-concept layout has lower countertops to make it easier for staff to see patients and respond immediately to their needs. The new footprint also provides wider hallways, improving traffic flow and reducing the risk of falls. Upgrading from the former nurses' station to the Resident Care Center is part of an overall remodeling of the health care facility, providing a comfortable, home-like setting for our residents who require the highest level of care."
Grace Village supporters helped raise over $67,000 for the project. Major donors included the Dr. Dane and Mary Louise Miller Foundation, residents Jack Meier and Bill and Rose Marie Henning and The Kosciusko County Community Foundation. More than $25,000 was raised through contributions to the Special Projects Fund from friends of Grace Village and golf outing sponsors.
"Today we dedicated the Resident Care Center to our residents who call the Health Care Facility home and to the nursing staff caring for them. It is very exciting to have this modern, comfortable and efficient are for them. As the only nonprofit retirement community in Kosciusko County, we rely on their support to pursue our mission to enable older adults to live to their fullest potential in the security of a Christian environment. We are so thankful for the generosity of our donors and sponsors throughout the years."
Grace Village, in Winona Lake, is the only not-for-profit continuing care retirement community in Kosciusko County. Incorporated in 1974, Grace Village is dedicated to preserving the richness of life for seniors in a comfortable and secure Christian setting, the release states.