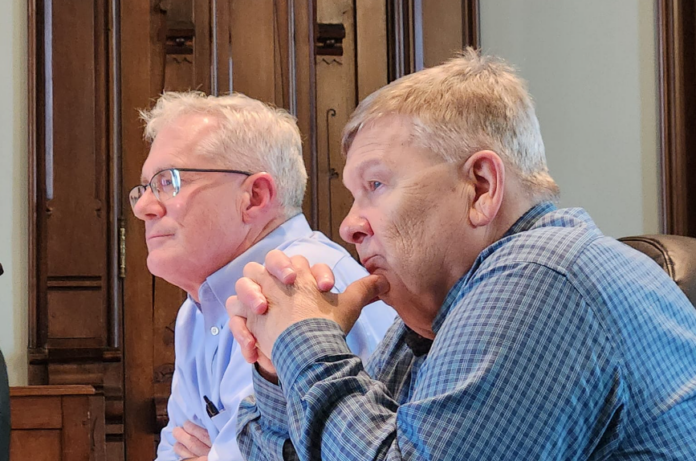 By Dan Spalding
News Now Warsaw
WARSAW — Kosciusko County's health board voted Monday to recommend the county opt-in on a new state health initiative that would bring millions of dollars of support to the county.
The program is a result of legislation approved earlier this year at the request of Gov. Eric Holcomb to improve public health.
More than half of Indiana's counties have already opted in.
For Kosciusko County, officials estimate it would mean an additional $2.7 million dollars over the first two years.
The county commissioners are expected to vote on the matter in two weeks.
The $225 million statewide program is being viewed as the biggest health enhancement in a century, but local officials have some concerns.
County Health Officer William Remington said he views it as a paradigm shift in state healthcare, but stressed concern about the amount of additional work it would be for County Health Administrator Bob Weaver.
He compared it to lawmakers making a huge, shiny spacecraft, but not focusing on local landing strips for its arrival.
"That's a lot of work," Remington said, interrupting a state health worker who attended the meeting. "I'm sitting here thinking, 'I wish I had a half-acre of cubicles with phones and computers and people' — we don't," Remington said.
"We have this guy," he said, pointing to Weaver. "He's great, but there's a lot of operational details every day he gets caught up with."
Sheila Paul, who is part of the new regional apparatus with the state health department tried to assure local officials that here is time to develop a plan and that funding allows for hiring of new staff.
"I can tell you everybody is in the same place as you guys are," Paul said. "Everybody's really trying to find out what's best and how to move forward with it."
County Commissioner Cary Groninger also spoke at Monday's meeting and expressed support for the overall goals.
"I'm not trying to put more work on Bob or more work on his current staff, but I think the funds are there with this money to be able to staff up and be able to handle this so it's not a burden," Groninger said.
"We could see a real change in our community because of it," he said.
There are other complicating issues. The department would lose two of its funding sources, the Local health maintenance fund and a trust account.
Officials are also wary of the political trade winds that could change any year down the road and lead to a dismantling of new programs.
Even though only two years of funding are assured, the program is view as a longterm project.
If approved, the county would have to prepare initial paperwork by September 1, that outlines in broad terms a plan.
Ultimately — if adapted — Remington said they will rely to a great degree on existing local health organizations, and that eventually, much of the efforts would be proactive rather than reactive.
Paul said the first year of the program would entail developing priorates and programs.
She said staff can be added to help administer the details.