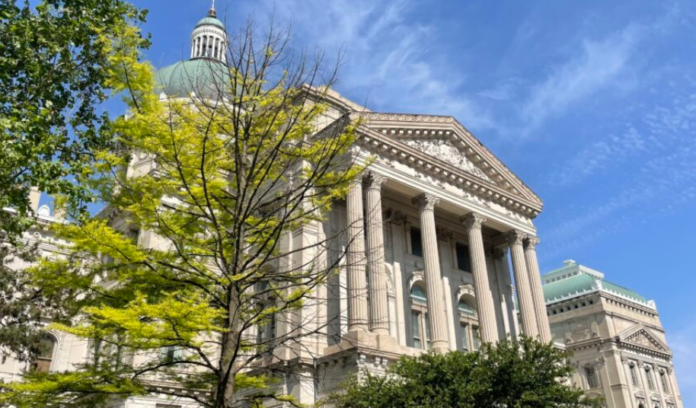 INDIANAPOLIS —  Three top GOP candidates for Indiana governor far out-raised their fellow hopefuls in semi-annual campaign finance reports released Monday, with U.S. Sen. Mike Braun recording the largest haul.
Fort Wayne businessman Eric Doden and Lt. Gov. Suzanne Crouch — both Republicans — remained relatively close behind, while Democrat Jennifer McCormick led the pack of non-GOP candidates.
Fundraising for state office wasn't allowed during the legislative session, so much of that money came in May and June.
But spending this early in the race has remained relatively light, setting the stage for expensive advertisement blitzes and other efforts closer to the primary election in May 2024 and the general in November 2024.
Republicans raise millions
Braun raised $2.2 million in the first six months of 2023, which his campaign said in a news release last week was the largest amount ever raised over that fundraising period for an open gubernatorial race. The Braun-aligned Hoosier PAC — located in Wisconsin — donated $50,000.
Braun began the period with $2.9 million in the bank and spent about $520,000. Combined with the new funds, the campaign ended the period with $4.6 million on hand. The senator previously transferred money from his federal accounts toward his gubernatorial bid, but hasn't this year.
"These resources will help us talk to Hoosiers about the conservative and Main Street approach I will take in running this state," Braun said in a news release. He said that includes "improving our schools and implementing conservative economic policies so that Indiana's economy is once again the model for America."
Braun was followed by Doden, who raised $1.8 million.
Father Daryle Doden donated $600,000 of that total. That was seemingly part of a fundraising plea that asked for donations of $10,000 or more by June 30th: "We are mindful not everyone may wish to invest at this level, but every dollar counts, especially NOW. The Doden family is matching, up to $1 million, any campaign contribution received in the month of June!"
A Doden campaign spokeswoman didn't comment on the family donation and the matching offer.
Doden himself, his wife and an investment company linked to his father have also previously donated funds to his campaign, but didn't in this reporting period.
Doden's campaign said that over the life of his bid — he's been running since May 2021 — about 90% of his donors have been Hoosiers, and account for 90% of the cash he's raised.
Doden started the year with $2.8 million and spent $865,000 — the highest of any candidate in this reporting period. He ended with nearly $3.8 million.
"I'm grateful for the support of so many Hoosiers across our state," Doden said in a Monday statement to the Capital Chronicle. "Our momentum continues to grow because people don't want the same old-same old dysfunction of Washington running Indiana. They want a new conservative vision for our state, where all 92 counties, not just 3 or 4, are thriving. And that's the story behind our impressive fundraising numbers."
Crouch — who led the trio in fundraising in the second half of 2022 — raised about $1.1 million in this fundraising period.
She began with $3.2 million in funds and spent about $430,000, leaving her with $3.9 million left on hand.
Crouch campaign spokesman Robert Vane said the campaign was "definitely encouraged by the outpouring of support," adding, "Suzanne is well-known and complimented as being a ferocious fundraiser."
He put the haul down to business leaders and small-dollar donations from everyday Hoosiers, telling the Capital Chronicle that her public servant roles mean she has "the best political network, in my view, of anyone running for any office in 2024."
Long-shot Republican Jamie Reitenour, who's run a faith-focused campaign, began with $3,700 and raised another $4,100. She spent $3,200, leaving her with $4,500.
Former Indiana Attorney General Curtis Hill announced last week he is running for governor but the campaign finance period had already ended.
Gaps remain for other candidates
Democrat candidate Jennifer McCormick, who previously won election to the state's top education role as a Republican, reported the highest fundraising totals of any non-Republican.
She raised more than $200,000 in addition to the $35,000 with which she began the period. The campaign spent nearly $33,000 — largely on fundraising and operations — and ended the period with more than $200,000 on hand.
McCormick's campaign said in a news release last week that the period's 1,100 individual contributors were greater than any previous first-time Democrat Indiana gubernatorial candidate in a similar time period.
"I'm proud to have so many Hoosiers investing in our campaign to return common sense leadership back to the State House. Together, we're building a grassroots campaign that is ready to compete and win in 2024," McCormick said in that release. "Traveling across Indiana, I've heard firsthand from people who are tired of the divisiveness coming from the legislature. They want a governor who will be a champion for our public schools, who will fight for our rights, and who will empower every family and community to achieve their full potential."
Libertarian candidate Donald Rainwater — who earned a historic 11.4% of the vote in 2020's  gubernatorial election as a third-party candidate — brought in just $6,000.
He began the period with about $2,400 and spent nearly $1,400, leaving him with just over $7,000 in the bank. Spending was logged mostly as credit card processing.
Rainwater's campaign didn't respond to a request for comment.
Perennial candidate Bob Kern is also running as a Democrat but raised no money.
* * *
The Indiana Capital Chronicle is an independent, nonprofit news organization dedicated to giving Hoosiers a comprehensive look inside state government, policy and elections. The site combines daily coverage with in-depth scrutiny, political awareness and insightful commentary.
You can read the original version of the story here.