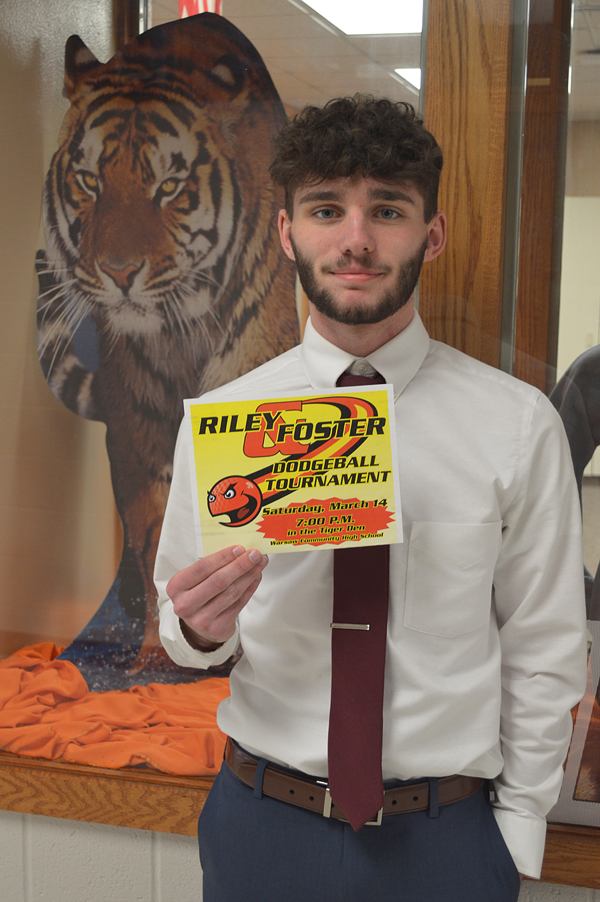 A dodgeball tournament on March 14 being planned by a high school junior will benefit Riley Hospital for Children and local foster children.
Brennan Cox, 17, a junior at Warsaw Community High School, has organized the event as part of his Kosciusko Youth Leadership Academy white paper project. Students in KYLA must donate at least 10 hours toward a community service project. The Riley & Foster Dodgeball Tournament is Cox's commitment.
"I thought it would be a cool idea to just do a dodgeball tournament because my church and a ton of my friends love to play dodgeball," he said.
Originally, Cox said he was planning to do the tournament at Baker Youth Club, where a Riley dodgeball tournament was held last year. He said BYC asked him if he'd join with them this year to get more people to do it.
The proceeds from the tournament will be split between Riley Hospital and BYC program scholarships for foster children. Cox said he chose Riley because "that's our school project, too." He chose foster kids because "hopefully one day I hope to foster to make a positive impact on kids' lives!"
The tournament starts at 7 p.m. in the WCHS Tiger Den. Cost is $40 per team, and each team is eight players. As of Thursday, Cox said he officially had five teams but believes four other teams may be signing up. Teams can pay in cash or check on the day of the tournament. If a person writes a check, they should make it out to BYC.
One of the participating teams is from the Indiana National Guard, but there's also teams from churches and the high school.
"I also don't know if there are other people making teams, so I could be looking at 10 to 20 teams. I would like that because that's a lot of donation money and it would be a fun event if there were a lot of people there," Cox said.
To sign up, email Cox at rfdodgeball@gmail.com with your team name as well as the names of the players. Players must be at least 13 years old, and each team is guaranteed at least two games.
"Depending on how many teams there are, if there's 10 to 20 teams, it'll be a pool bracket. There will be four teams in a pool, and then they'll all play each other in quick games. The teams with the most wins – the top two – will go on to the winner bracket. And then the bottom two will hopefully move on to a loser's bracket. There will be multiple pools. That's only if we get a ton of teams. If not, then it will just be a regular bracket, so everyone is guaranteed at least two games," Cox explained.
The winning team will receive a "nice glass championship trophy," he said, paid for out of his own pocket.
The rules will be basic, regular dodgeball rules. Two volunteers will referee per court.
"I've got quite a few volunteers who are helping me out with it," he said.
He said planning the tournament was a little more difficult than he anticipated.
"I think I underestimated planning, but it's been fun. I've gone to – I counted 80 businesses – and I printed off a ton of flyers and just handed them a flyer and said, 'hey, can you give this to your staff to put up?' So that's kind of been an enjoyable part, just going to a ton of places," Cox said. "I've emailed a ton of people with the flyers and asking and everything. Now, it's just the process of organizing the actual event and planning how it's going to run pretty much. But hopefully it will go well when it happens."
People don't have to play in the dodgeball tournament to support Cox's effort to raise money for Riley and foster children. They can come out to the event and watch. There will be concessions – candy bars, drinks and water – with all the proceeds going to the causes and were donated by the high school. There will be a donation box for people to give at the tournament.
Cox said his goal would be to raise $300 to $400 from the event, but would like to exceed that.