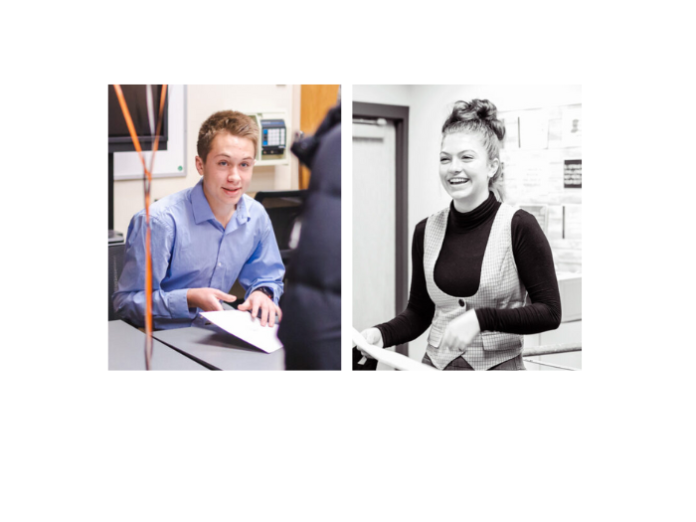 WARSAW — Jordyn Leininger and Ryun Hoffert have been named this year's Lilly Endowment Community Scholarships recipients by the Kosciusko County Community Foundation.
Both students were informed on Tuesday morning.
Jordyn Leininger is a senior at Whitko High School. From a third-generation farming family, Jordyn carefully considered a career in agriculture before realizing she was better suited for something else: dermatology.
"Although I'm very involved in agriculture, my favorite part of taking care of animals was when they would develop skin conditions and I got to play animal dermatologist," Jordyn wrote in one of her application essays. After seeking help from a professional dermatologist herself, Jordyn realized where she wanted to direct her future.
Ryun Hoffert is a senior at Warsaw Community High School. He is an active track team member and has served on Teen Court, Fellowship of Christian Athletes, Tiger Leadership Council, Mayor's Youth Advisory Council, and more. He also worked at Baker Youth Club and interned for Judge McGrath, among other positions. Ryun will graduate in May 2023 with honors.
"I have been blessed to grow up in a family that is dedicated to helping people in need by making a positive impact. The foster care and adoption processes made my family whole and opened my eyes to the needs of vulnerable people," Ryun wrote in one of his scholarship application essays.
After high school, he plans to pursue a degree in law. "Due to my experiences with family and underserved populations, my career goal is to pursue law and become a public defender," he said. "I desire to be a guiding light for clients in a world that may have communicated they are the sum of their choices."
The Lilly Endowment Community Scholarship is a four-year, full-tuition scholarship that allows two recipients from each participating Indiana county to attend an Indiana college or university of their choice. In Kosciusko County, the Community Foundation appoints a committee to lead a blind review process of all local applications.