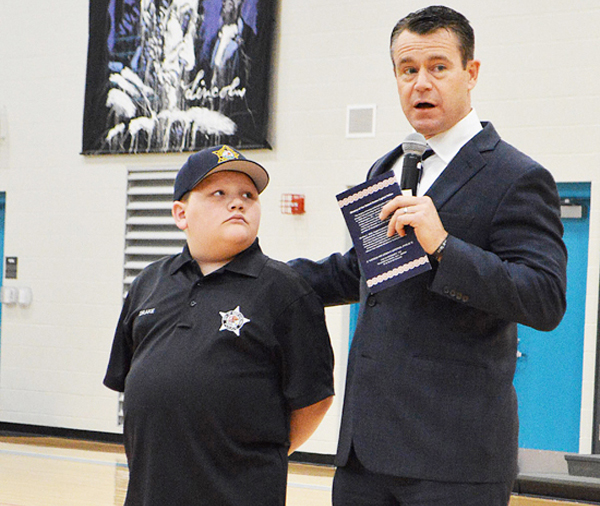 An honorary police officer and a 2018 Riley Champion has unexpectedly died.
On Friday, Drake Price, 16, died at home, according to a funeral notice from Titus Funeral Home.
In March 2017, the city of Warsaw made Price, then a fourth-grader at Lincoln Elementary School, an honorary police officer. Price watched the ceremony from his hospital bed at Riley Hospital for Children. Drake, who wanted to be a police officer, was being treated for a brain tumor. When Price returned home, he was given a "hero's welcome." Lincoln Elementary designed "Drake Strong" T-shirts to raise money for him and his family.
On Feb. 2, 2018, Warsaw Mayor Joe Thallemer proclaimed that day as Drake Price Day.
Price was diagnosed in February 2017 with super mass craniopharyngioma, basically a tumor about the size of a fist which sat on his optic nerve. It was later discovered he had Moyamoya disease, which is a cerebral arterial disease characterized by constriction of certain arteries at the base of the brain.
He was known for his love of emergency services, especially the police. More than 2,741 police patches from around the world were sent to him to be made into quilts, pillows and curtains. While he was at Riley, Price was "adopted" by the Indianapolis Police Department. He was adopted by the Warsaw Police Department, and the Chicago Police Department as well. Numerous city and county law enforcement officers came to see him in their police cars.
On Aug. 29, 2019, at Lincoln Elementary, U.S. Sen. Todd Young presented Price, then 13 and a student at Lakeview Middle School, with a police patch from the U.S. Capitol Police in Washington, D.C. By that time, he had collected 5,000 police badges from around the world.
On Friday, regarding Price's passing, Warsaw Police Chief Scott Whitaker said, "We are all saddened by the loss of our little buddy. He inspired all of us with his strength and amazing attitude in spite of all he endured. We will forever remember Drake saluting Capt. Layne as he entered Oakwood Cemetery for the burial ceremony. Drake loved us and we loved him. 'Drake Strong!' Our thoughts and prayers are with the Price family."