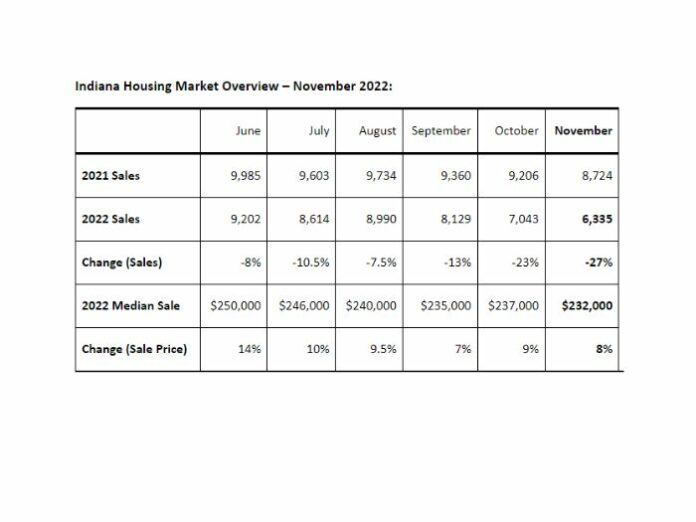 INDIANAPOLIS  — Indiana's housing market continued to cool in November as the statewide total of 6,335 closed home sales finished 27% below November 2021.
Average thirty-year mortgage rates dropped from 7% to below 6.5% by the end of the month in response to encouraging inflation news but remain more than double the historically low rates enjoyed by homebuyers last fall.
According to the Indiana Association of REALTORS, November also brought 6,342 new listings, 19% below 2021, though Indiana's active inventory of homes for sale remained above 12,000 for the third consecutive month as sales slowed from the record-setting market of 2021. The state's median sale price decreased from $237,000 to $231,000
"Hoosiers who bought a home in November took advantage of more options, lower prices and improving lending conditions," said Indiana Association of REALTORS® CEO Mark Fisher.
"However, there were fewer buyers in the market given elevated mortgage rates and national economic uncertainty along with the typical drop in sales and listings from August through the end of the year."
There are encouraging signs for the future of Indiana real estate even as demand remains sluggish.
The Federal Reserve is expected to slow its escalation of target interest rates as evidence grows that consumer inflation is easing. Mortgage rates have already fallen four straight weeks according to Freddie Mac data, averaging 6.4% to start the week of December 12th.
Fisher noted that Indiana's housing market continues to outpace the U.S. rate despite the challenging climate: "Since the beginning of June, home sales across Indiana have dropped 12% below 2021 through November – but nationally, sales have plummeted more than 25%," he explained.
"Indiana's inventory is still so tight by pre-2020 standards that our market still favors sellers," Fisher continued. "Homes are selling near full list price on average, more than 7% above the median price for November 2021 – property values are still stable, even rising, as we wait for demand to recover."