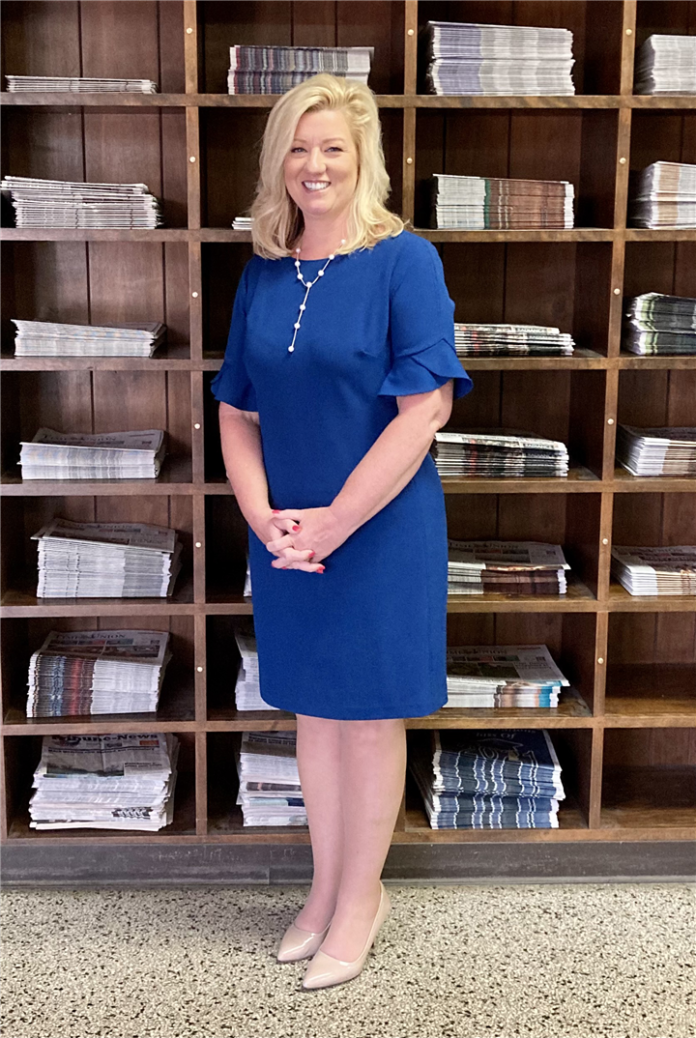 Secretary of State Holli Sullivan stopped by the Times-Union Thursday as she makes her rounds across the state to talk about election security.
Sullivan was appointed by Indiana Gov. Eric Holcomb as secretary of state on March 16 after Connie Lawson stepped down.
Sullivan is Indiana's 62nd secretary of state and has been on a statewide tour meeting with county clerks and business leaders to listen to what they have to say about how the 2020 election went.
She's also raising awareness about Hoosier voters receiving postcards from her office as a statewide effort to refresh the voter list.
The goal of the postcards are to identify outdated and inaccurate voter registration information to improve the accuracy and integrity of the state's list.
"These mailings help us identify records that need updating or are no longer valid. This helps us create a more accurate picture of voter turnout for the state and helps ensure our elections remain safe and secure. Hoosiers deserve to know we have accurate voter lists," Sullivan said.
Postcards that are returned to the office as undeliverable will be used to identify outdated voter registration information. If the first mailing is returned as undeliverable, a second postcard will be sent to the forwarding address on file with the U.S. Postal Service. The second postcard will ask the voter to confirm or update their residence address or cancel their Indiana voter registration using a postage prepaid voter response card.
Sullivan said some Hoosiers aren't sure if the postcards are really from her office. She wants people to know they are.
In 2020, Sullivan said Indiana had the highest turnout of voters it's ever seen since 1992.
"We had an increase in absentee ballots like no other year, and we had more people at the polls during the general (election) than we expected, but we did that with great communication statewide and with local elected officials," she said. "We were transparent, we were fraud-free, and we were one of the first states in the nation to count votes, so we were expedient."
Sullivan – and Kosciusko County Clerk Ann Torpy – say no fraud has been found in Indiana or in Kosciusko County.
"But now we live in an environment where you wake up and hear about cybersecurity attacks on large businesses," Sullivan said, saying it sows doubt in the minds of Hoosiers when they read about election problems in other states. "So, that's what I mean as far as continuing to increase transparency and to increase the safety measures that have been put in place. Increase our funding for local governments to invest in and be aware of what cybersecurity means."
Torpy said she fields calls all the time from Kosciusko County residents who are concerned about the election's integrity, but both she and Sullivan agree all fraud claims in Indiana are unfounded.
While Sullivan is no longer in the legislature – she served more than six years as the state representative for northern Evansville and Newburgh – she does think more security or transparency could be looked at by lawmakers when it comes to absentee ballots.
Currently, signatures are checked four times before the votes are counted, ensuring they match.
While some states have passed laws requiring a photo ID, driver's license number or the last four digits of a Social Security Number, Sullivan said that's not up for her office to decide if that's right for Indiana.
Elections are merely one drop in the bucket when it comes to what the secretary of state's job entails.
The duties of the Indiana Secretary of State include chartering of new businesses, regulation of the securities industry, oversight of state elections, commissioning of notaries public, registration of trademarks and licensing of vehicle dealerships throughout Indiana.
Sullivan has 63 people who work in her office, and said the securities division investigates white collar crimes and that division is ramping up investigations post-COVID when it comes to fraud investigations and financial hardship claims due to COVID.
"The state allows the door sadly to be open to scam artists and others that want to take advantage of Hoosiers, so one thing that we pride ourselves on in the Indiana is that the securities division does an excellent job to protect Hoosiers and to help them understand the risk and the fraud," she said.
She intends to continue her listening tour throughout Indiana and promote Indiana's election process.
"We're trying to increase voter confidence," she said. "When people feel confident, they're more apt to vote."
Sullivan attended Castle High School in Newburgh, Ind.; earned a bachelor's degree in industrial engineering from the University of Missouri and has continued education in business management at Lindenwood University. She and her husband of 25 years, Chad, live and raise their three children – Dalton, Savannah and Sawyer – in Evansville.