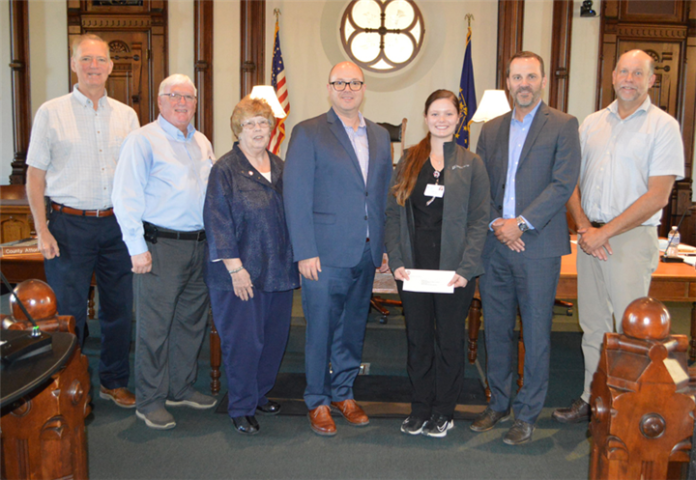 Association of Indiana Counties (AIC) and Nationwide Retirement Solutions presented a scholarship to Ashley Irwin at the Kosciusko County Commissioners meeting Tuesday morning.
In presenting the scholarship, Ryan Hoff, AIC general counselor, said the annual scholarship is presented to children or grandchildren of county employees and is based on community involvement, leadership and worthy goals.
Ashley is the daughter of Joe and Amy Irwin. Amy is the Kosciusko County ordinance administrator.
"AIC's scholarship committee was dually impressed with Ashley's community involvement and educational attainment and her plans to continue serving the community as a nurse," Hoff said.
Kevin Mitchell, from Nationwide Retirement Solutions, then presented the scholarship award. Presenting the award to Ashley, Mitchell told her, "Congratulations so much on this award and good luck with your studies at IUPU-Fort Wayne."
After the meeting, Kosciusko County Council President Sue Ann Mitchell, who also serves as the third vice president of AIC, said Ashley is Amy's third child who has received the scholarship.