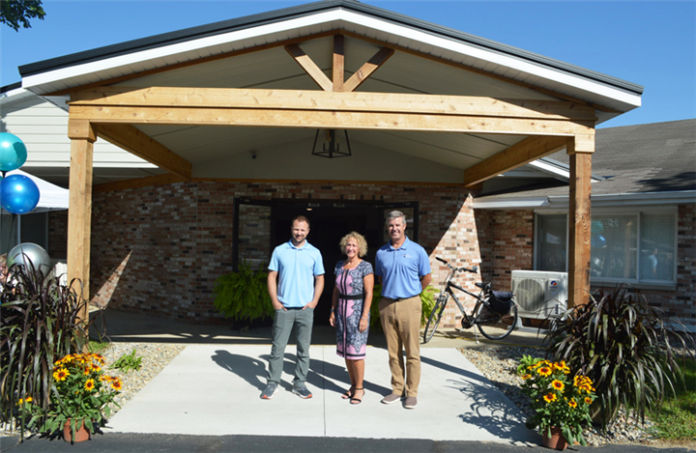 MILFORD – What was once a nursing home in Milford is now an apartment building with spacious one-, two- and three-bedroom apartments available.
Tuesday morning, an open house and ribbon-cutting ceremony were held for The Village on Fourth, 505 W. Fourth St., Milford.
Gavin Troyer, owner of OA Construction Services and of Assurance Property Management and Realty, said Lakeland Health Care used to own the building.
"The owner of the building, Dan Killinger, he approached me about property management for the building and he was also looking for a contractor at the time. So, it was just a good fit between the two of us that, yes, we're going to manage the property but we also are able to come in and do all the remodel work on the building, so it worked out well," Troyer said.
Killinger said, "What I do is look for properties in small towns in Indiana that need renovated, rehabbed to turn into multi-family properties. So, basically (I) found this property through an internet listing and went through a process with the county and town to get it rezoned to residential and then did a conversion from nursing home to multi-family property."
He said they kept all the walls and corridors, but gutted all the interior walls to re-partition it to make it suitable for one-, two- and three-bedroom units.
There are 24 apartments – one, two and some three bedrooms. Some of the three-bedroom units have their own private entries, their own washers and dryers and upwards of over 2,000 square feet.
"Some of the standard one-bedrooms are one bedroom, one bath, but it's got a full-sized kitchen, walk-in closets," Troyer said. "We do have a central laundry facility in the building so if you do move in here, you can go straight to the laundry. You don't have to go outside of the facility to do your laundry."
Included in the rent is WiFi, sewer, water, gas, electric, trash service, lawn care, snow removal. "Basically, you pay one bill for the month and that's it," Troyer said.
A standard one-bedroom apartment, all inclusive, starts at $1,150 and the rent goes up from there, depending on the number of bedrooms and square feet.
Killinger said one thing about the apartments are the unique layouts and sizes.
"We have a lot of natural light in these units. Specifically, we have skylights, vaulted ceilings. We have on-site amenities like free internet, all utilities are included, on-site laundry, so all of those types of things here locally," Killinger stated.
Troyer said they also have eight indoor, climate-controlled, basic storage units for rent for renters who have extra stuff but no room for it in their apartment. They are anywhere from 100 to 150 square feet.
The apartments are not geared toward any one segment of the population. Troyer said they've had interest in the apartments from elderly people who want a summer residence they don't have to maintain to teachers, students and many others. Leases are for six months to a year.
Killinger said there's no age limitations and children and pets are allowed. There are some dogs that are aggressive breeds that are not allowed, but most dogs and cats are allowed.
Demand for housing is huge, Troyer said. "Shelley Tucker did a market research on the area and we're well over 1,500 units short in the area for what the area needs as far as apartment living. The demand for apartments is huge," he said.
Tucker is the property manager for The Village on Fourth. If someone wants to rent one of the apartments, she said they can find them on Facebook.
"We also … the day-to-day operating software that we use goes out to all the search engines, so if you plug in 'one bedroom apartment, Milford, Indiana,' we're going to pop up. They can get a hold of me that way," she said.
Interested renters also can stop by the apartment building and be shown around. Tucker doesn't have set office hours at The Village on Fourth yet, but she will.
Troyer said they do have an office in New Paris as well.
Apartments are available to rent now. Tucker said seven are occupied already, and a couple turned in their application Monday night for an apartment.
Troyer said there is security on the building "so it is a secure place to be. We have (pass) cards, you swipe it and that gets you into any of the doors, so not just anybody can walk into the building. We've done what we can to make it secure.
"This is a very quiet neighborhood. People have been very welcoming. They were hesitant at first when we first started the project because it was something new happening in their neighborhood, but I think it's something that Milford can be proud of and I know we're proud of it, we're proud of what we've done, and I think it's going to be something long-term that's going to be good for the town," he said.
Killinger also owns properties in Elwood and Crawfordsville. The Village on Fourth is his first property in Kosciusko County.
He said, "Part of our process, too, we like to invest in local communities by hiring local general contractors, property managers to keep the cash local within the town to help develop it as well."