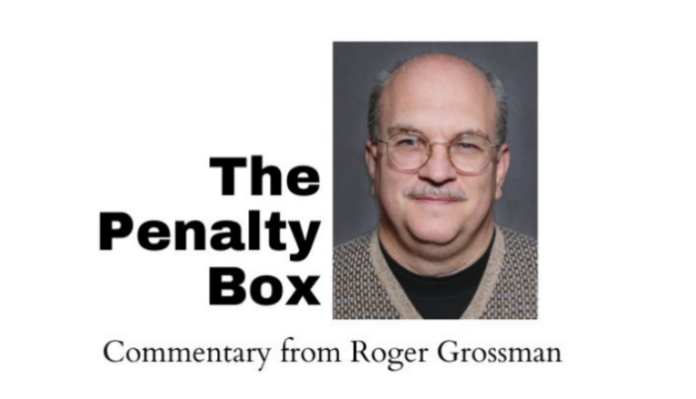 By Roger Grossman
News Now Warsaw
I grew up in a patriotic America and I am unashamedly patriotic.
My formative years were the 70s and 80s. The US was in the depths of the "Cold War" standoff with the Soviet Union when we wondered if the nuclear war drills we practiced would ever not be drills.
I remember the day the US Embassy in Iran was invaded, hostages were taken and held captive for over a year.
I remember the day they were released — Jan. 20, 1981 … my birthday. When the national anthem plays before a game on TV or radio, I stop until the last note fades out.
My video feed on YouTube is filled with soldiers who return home to surprise their loved ones, and ceremonies for those whose return is somber.
While the romantic view of The Great Experiment called the United States of America seems to have died, there are still glimpses of light that pop up to remind us of the hope that America once offered.
Brittney Griner is a basketball player in the WNBA. She played her college ball at Baylor University and she is an outstanding player.
Griner was part of the protest movement centered around the anthem a few years back. Many took a knee during the anthem. I don't have to tell you about that time. You remember it. You know it well.
But she took it beyond just not standing in respect for the flag during the national anthem before a game.
She made the statement that she didn't want to be in the same room where "The Star-Spangled Banner" was played.
Feelings were strong during that time, and the anger and frustration on both sides ran very deep. Griner was mad at America. Her vision of what this country was supposed to be wasn't what she was experiencing.
And whether or not you think that her view was spot on or totally off base and unfair, it doesn't matter. It's what she felt.
On February 17, 2022, Griner was traveling from the US to Russia, where she plays in a women's basketball league during the WNBA's offseason.
When her plane landed, security agents and their K-9 units checked her luggage and found vaping cartridges with cannabis oil inside one of her bags. She was detained and then officially arrested on charges of smuggling marijuana—which is banned in Russia.
It took two weeks for word of her arrest to become public knowledge.
Griner had Russian lawyers preparing her defense, but it took over a month for anyone from the US to be able to see her and speak with her. In August, she was sentenced to nine years in prison.
Two weeks before Christmas, she was part of a prisoner exchange and was on a plane for home. When she was ready to speak out, she expressed gratitude for everyone on two continents who had worked to secure her freedom. She spoke of the conditions in prison and how hard it was to be away from her family and friends.
And then came the moment that changed it all. That song played again.
Yep, it was the same song, but it sounded much different than it ever had before. "Hearing the national anthem … it definitely hit different," Griner said. "It's like when you go for the Olympics. You're sitting there, about to get gold put on your neck. The flags are going up and the anthem is playing. It just hits different."
Ten months in Russian detention will do that to, and for, a person.
Griner had seen the world through different lenses. She had experienced what it was like to have your freedom revoked.
And she understood what America really is.
So when many of you are engaged in cookouts and swimming and other outdoor activities this Memorial Day Weekend, Brittney Griner will likely spend at least a moment being grateful for the United States of America.
The symbol of that is when the anthem plays at the next Phoenix Mercury game. Griner will be standing — standing proud and proud to be an American. Glad to be on American soil and in the land of the free and home of the brave.
The anthem will play around here on Monday, too. Will you hear it? Will you remember why it's played, and who it's played for?
Will you remember them … those who gave their lives for your freedom?
If you do, then their sacrifice was not for nothing.
* * * 
Roger Grossman has been covering local sports in Kosciusko County for more than 30 years and is employed with News Now Warsaw. You can reach him at  rgrossman@kensington.media.