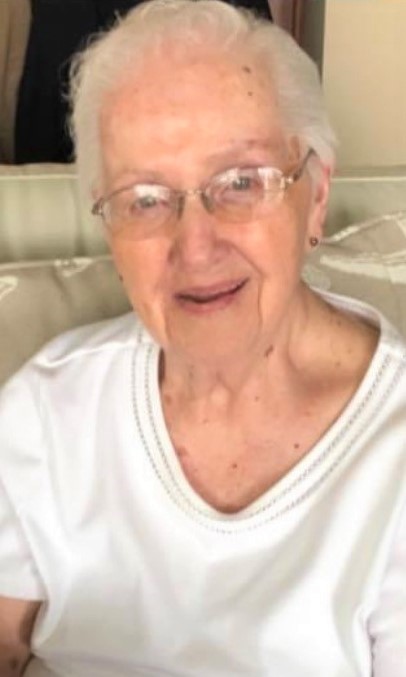 Jane Ruth Rush of Warsaw, Indiana passed away at home surrounded by family at 10:07 a.m. on Sunday, August 28, 2022 at the age of 89.
She was born on August 2, 1933 in Mishawaka, Indiana.  She was one of five children born to Lucy (East) and Walter Haughee.  Jane grew up in Mishawaka and graduated from Mishawaka High School in Mishawaka, Indiana in 1952 and attended Cincinnati Bible Seminary for two years.
On September 14, 1957 she married the love of her life, James "Jim" Lawrence Rush.  They made their home in South Bend, Indiana and were blessed with 65 years of marriage together before she passed away.  They shared the joy of becoming parents to four children and loved becoming grandparents, great-grandparents and great-great-grandparents throughout their journey in life together.
Jim and Jane retired in Warsaw, Indiana and have been residents in Kosciusko County, Indiana for the past 21 years where they enjoyed being members of First Christian Church in Warsaw.  They enjoyed the fellowship of their church family and the many friends they made there over the years.  Jane enjoyed playing the piano, writing poetry and most importantly, attending church.  She loved her family dearly and enjoyed celebrating birthdays, anniversaries, holidays, and everything in between.  She was a wonderful wife, loving mother, grandmother, sister and friend to many.  Her loving smile and hugs will be dearly missed by her family.
She will be lovingly remembered by her husband, Jim Lawrence Rush (Warsaw, Indiana), son, Mark (Tammy) James Rush (Akron, Indiana), and three daughters, Lucy (Cris) Petersen (Howell, Michigan), Loretta (Darryl) DeWitt (Osceola, Indiana), and Julie (Paul) Deming (Syracuse, Indiana).  Also surviving are ten grandchildren, eleven great-grandchildren, six great-great-grandchildren, two brothers, Jerry (Kim) Haughee (Mishawaka, Indiana) and Joel Haughee (San Francisco, California).  She was preceded in death by her parents, two brothers and two great-grandchildren, Cole and Luke Adams.
Jane's life will be celebrated with a service at 1:00 p.m. on Thursday, September 1, 2022 at First Christian Church of Warsaw, 115 Park Ridge Drive, Warsaw, Indiana and officiated by Pastor Matthew Rogers and assisted by Pastor Jeremy Welch.  Friends and family may visit prior to the service from 11:00 – 1:00 p.m. A graveside service will follow at Oakwood Cemetery of Warsaw, Indiana.
Memorial donations may be directed to Heartland Hospice, 2720 Dupont Commerce Court, Suite 210, Fort Wayne, IN  46825.
Online condolences may be sent through the funeral home's website at www.redpathfruthfuneralhome.com.