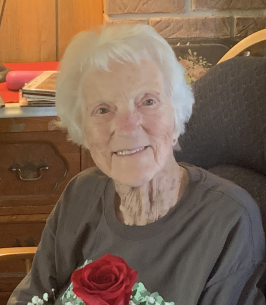 Janet Marie Randall, age 94 of Valparaiso and previously a longtime resident of Scottsville, KY, passed away unexpectedly after a brief illness on Sunday, December 19, 2021.
Janet was born in Bloomington, IL on April 1, 1927, the only daughter of John H. Trent and Ida Mai (Wilson) Trent. She spent her formative years in the Bloomington area and was married to John R. Carmack after her Junior year of high school; the pair had shared six years together before John was killed in a motorcycle accident. Later, Janet was married to William Randall, he too preceded her in passing after many years of marriage.
Professionally, Janet worked in the retail and factory space for much of her life. She was a hard worker with a spunky personality, traits which were invaluable in her final position. Beginning at age 70, Janet became the Assistant Director of Activities at the Cal Turner Rest Home in Scottsville; she spent more than 17 years there. She genuinely enjoyed her position and the relationships she built with the residents. Retiring at age 87 due to cancer, Janet powered through treatment, moving to Valparaiso to be closer to family.
More personally, Janet is remembered as fiercely independent and incredibly social. She rarely knew a stranger and loved playing games with friends and family. She was active in her Church and loved the Lord. She was also a meticulous cleaner and organizer – tasks she found satisfaction in undertaking.
A Life Celebration® is planned for Tuesday, December 28, 2021 at Fellowship Baptist Church, 1838 East Kosciusko Dr, Warsaw, IN 46582. Janet's funeral service will begin at 1:30 p.m. with gathering of friends for one hour prior to the service. Burial will be in Warsaw's Oakwood Cemetery.
Those who survive with memories to cherish include two daughters: Charlotte Howett of Warsaw and Marcia (Russell) Daubert of Lynchburg, VA; six grandchildren: Liza DeGarmo, LaDawn Heinold, Nathan Howett, Noel Howett, Markus Daubert and Michael Daubert; 16 great-grandchildren; brother, John H. Trent II and a special niece, Geneva. In addition to her husbands, Janet was preceded in passing by an infant son, a grandson, and a son-in-law.
In lieu of flowers, gift are appreciated by the family. Gifts may be given to Campus Crusade for Christ, PO Box 628222, Orlando, FL 32862-8222. Written condolences may be left for the family at www.TitusFuneralHome.com