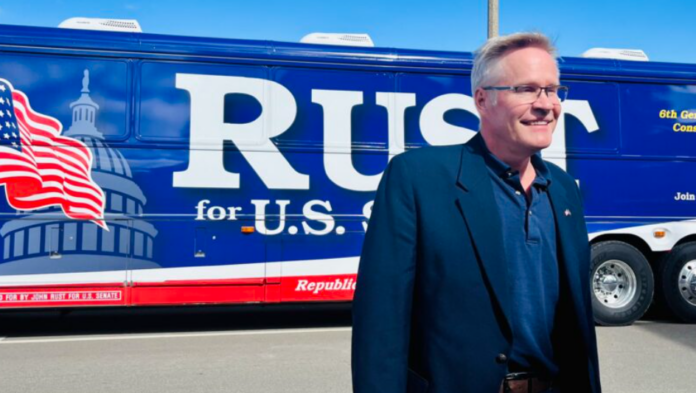 By Casey Smith
Indiana Capital Chronicle
INDIANAPOLIS — U.S. Senate candidate John Rust gave big to his own campaign during the third quarter, which he says is a sign that he won't be propped up by political action committees.
Rust, an openly gay Hoosier running as a Republican, has contributed $1.6 million since he officially launched his campaign in September, according to his Federal Election Commission (FEC) filing. He chaired his family's Seymour-based Rose Acre Farms until last month.
He raised only $6,000 in contributions from other individuals, however.
"I'm donating to my campaign rather than loaning to my campaign because I want to work in the United States Senate day one for Hoosiers," Rust told the Indiana Capital Chronicle on Monday. "I won't be going there to just work to pay off my campaign debts. It is very important to me that people know I'm in for this race 100% for Hoosiers. And will not be beholden to the Washington swamp like Jim Banks is."
Although GOP favorite U.S. Rep. Jim Banks was beat on overall fundraising in the third quarter, he continues to amass more individual contributions than Rust and other contenders for Indiana's open Senate seat in the November election. Between July and September, Banks received $417,419 from outside donors and $185,850 from political committees, like PACs.
Since campaigning began, Banks has also raked in more total donations than any other candidate. He has not made any personal contributions to his own campaign, according to federal campaign finance data.
Four Hoosiers — two Republicans and two Democrats — have launched the most serious bids for the U.S. Senate, with each hoping to take Indiana's seat currently held by Sen. Mike Braun.
Braun is leaving the position to run for Indiana governor, opening the doors to a slate of potential successors.
But Banks is the party's favored contender in the race.
The sitting congressman has already earned an endorsement from the Indiana Republican Party for his 2024 U.S. Senate bid — marking the first time in recent history that the state party has made an endorsement before primary elections for an open seat.
Rust, on the other hand, has launched a legal battle to get his name on the ballot. He maintains that a current Indiana law blocking him from the ballot is unconstitutional.
"John Rust is a left-wing millionaire whose longtime Democrat voting record disqualifies him from running as a Republican," Banks told the Capital Chronicle on Monday. "John Rust is suing the state to let him on the ballot at the same time he's being sued for price-gouging hardworking Hoosier families during the pandemic. He should pay back the Hoosier families he swindled instead of using his millions to try to buy a Senate seat."
On the opposing ticket, former state lawmaker and lobbyist Marc Carmichael and Keith Potts, a member of Indianapolis' City-County Council, are both seeking the Democratic nomination.
A spate of additional candidates from a variety of parties have also registered with the FEC. All candidates will have to gather enough signatures to make the ballot.
The primary election is scheduled for May 7, 2024. The general election will follow on Nov. 5, 2024.
Rust vs. Banks
In Indiana's Senate race, Banks raised about $603,000 in the third quarter, ending the quarter with close $2.7 million cash on hand, according to his FEC filing. That's compared to his $1.2 million raised in the first quarter and nearly $1 million during the second quarter.
Banks, who was first elected to Congress in 2016, has raised about $2.78 million over the course of the campaign.
He reported a total of $420,000 in debt during the latest quarter, after reporting just $32,000 in the second quarter.
Rust only filed a statement of organization with the FEC on July 1, just after the reporting period ended.
His self-funding has so far helped the campaign acquire an RV, print promotional materials and purchase billboard advertising. Rust has additionally received one $6,000 donation from his brother, Anthony, according to FEC filings.
"Jim Banks drinks from the chalice of PAC swamp water in DC with both hands," Rust told the Capital Chronicle. "When career politicians like Mitch McConnell max out donations to Jim Banks, you know he is bought and paid for."
Carmichael, meanwhile, made his candidacy official in June, while Potts announced his Senate run July 6.
Potts reported nearly $66,000 in donations during the third quarter — more than $62,000 he contributed himself. Carmichael has not reported any donations.
Dr. Valerie McCray, a psychologist from Indianapolis, was the first person to file to run in Indiana's 2024 U.S. Senate race, in December 2022. But she has not reported any money raised to the FEC.
Pence low on cash
Former Vice President Mike Pence's presidential campaign raised $3.3 million in the third quarter of this year — of which $150,000 came from his own pocket.
He reported in his latest FEC filing that he has just $1.2 million cash on hand, though, and more than $600,000 in debt.
Pence, also a former Indiana governor, entered the 2024 GOP primary in early June with just three weeks until the end of the second fundraising quarter. His campaign raised just over $1.1 million in that time, while his Committed to America super PAC raised about $2.6 million, according to his federal filing.
The latest numbers fuel ongoing questions about the former vice president's overall path to the nomination and his ability to reach the donor threshold to qualify for the third GOP debate.
The Pence campaign has yet to confirm how many donors contributed during the third quarter, leaving it uncertain whether he will hit the Republican National Committee's threshold needed to qualify for the opening debate in Miami on Nov. 8.
Candidates must have 70,000 individual donors and secure 4% of the vote in either two national polls, or one national poll and two polls from separate early states.
Former President Donald Trump, on the other hand, raised $24.5 million from July to September. That's more than double the amount collected by the campaign of his closest rival in fundraising, Florida Gov. Ron DeSantis, who raised $11.2 million.
* * *
The Indiana Capital Chronicle is an independent, nonprofit news organization dedicated to giving Hoosiers a comprehensive look inside state government, policy and elections. The site combines daily coverage with in-depth scrutiny, political awareness and insightful commentary.
You can read the original version of the story here.