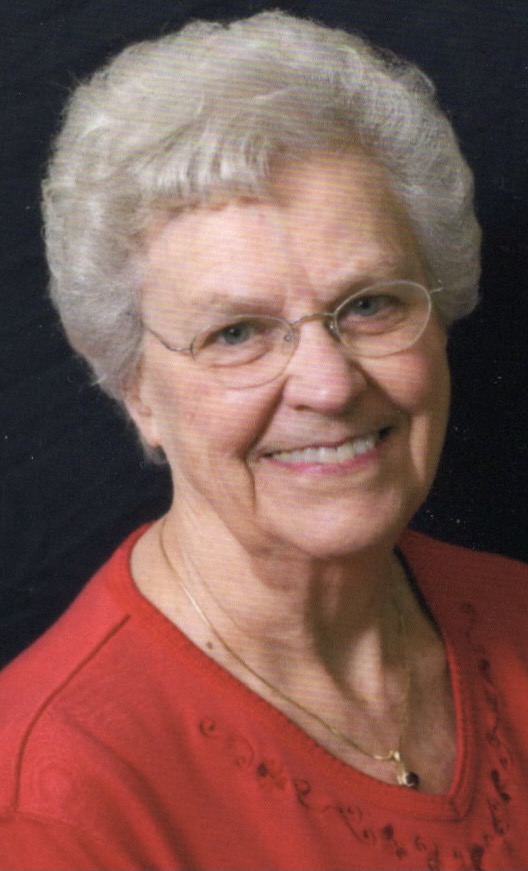 Joyce Elvirta Griffith a resident of Grace Village Retirement Community in Winona Lake, Indiana passed away at 3:40 a.m. on Saturday, May 7, 2022 at the young age of 90.  She is now at home for eternity in Heaven with her Lord and Savior, Jesus Christ.
She was born on July 24, 1931 in South Gate, California.  She was one of three children born to Leila Christine (Neher) Polman and Leo Polman.  Joyce was a California girl, and graduated in 1949 from Culter Academy in Los Angeles, California afterwards she attended Biola University in La Mirada, California in 1950.  She finally ended up in Winona Lake, Indiana at Grace College.
On September 1, 1951 she was married in Winona Lake, Indiana to Reverend D. Robert "Bob" Griffith.  They shared 66 years of marriage before he passed away on September 19, 2017.  Joyce was a proud pastor's wife and homemaker, and with her family she served the Lord as Bob served as a Grace Brethren Minister in pastorates in Lake Odessa, Michigan; Grandview, Washington; Philadelphia, Telford, and Hollidaysburg in Pennsylvania; and Berne, Indiana.  Bob and Joyce traveled the world spreading the Word in the mission fields in France, Germany, Africa, Puerto Rico, Mexico and Argentina.
Upon retirement they moved to Kosciusko County, Indiana.  For the past 26 years Joyce enjoyed living at Grace Village Retirement Community where she kept active serving in various capacities.  She was a founding member of the 74 Society of Grace Village, played the bells in the Chime Choir, and loved to go to services at the Grace Village Chapel.  She was a familiar site getting her exercise in walking the hallways of Grace and she was a member of the Winona Literary Club.  She even worked part time for over 20 years as a funeral attendant and hostess at Redpath-Fruth Funeral Home in Warsaw, Indiana.  Her favorite job in retirement was simply being grandma and was affectionately known as GiGi to her beloved grandchildren.  Joyce loved the fellowship of her church family as a founding member of Winona Lake Grace Brethren Church.  She was a dearly loved wife, mother, grandmother, great-grandmother and friend to many.  Joyce will be dearly missed by those who were fortunate enough to have known her.  She would most want to be remembered for her faith in her Lord and Savior, Jesus Christ whom she waited a lifetime to meet.
She will be lovingly remembered by her two sons:  David (Susan) Griffith (Warsaw, Indiana); Dr. Steven (Rose) Griffith (Cannon Falls, Minnesota); and her daughter:  Kathleen (Bob) Burns (Westfield, Indiana).  Also surviving are eight grandchildren:  Jessica (Caleb) Green, Jennifer (Corey) Palmer, Jeremy (Kristin) Griffith, Cory (Renee) Burns, Candace (Matt) Yeagley, Amanda (Antonio) Sandoval, Samantha (Clay) Hamilton, Jason Thurston; nineteen great-grandchildren; and her sister and brother-in-law:  Patricia and Wendell Kent (Buena Vista, Colorado).  She was preceded in death by her parents, husband, Bob Griffith, brother, Gerald Polman, and her sister, Elaine Brenneman.
Joyce's life will be celebrated at 3:00 p.m. on Saturday, May 14, 2022 at Redpath-Fruth Funeral Home, 225 Argonne Road, Warsaw, Indiana and officiated by Chaplain Bryan Benjamin.  Friends and family may visit prior to the service from 1:00 – 3:00 p.m.  Burial will take place at Pike Brethren Church Cemetery in Conemaugh, Jackson Township, Pennsylvania in Cambria County.
Memorial donations in Joyce's memory may be directed to Grace Village Retirement Community, 337 Grace Village Drive, Winona Lake, Indiana  46590; or to Encompass World Partners, P.O. Box 3298, Monument, Colorado  80132.
Online condolences may be sent through the funeral home's website at www.redpathfruthfuneralhome.com.