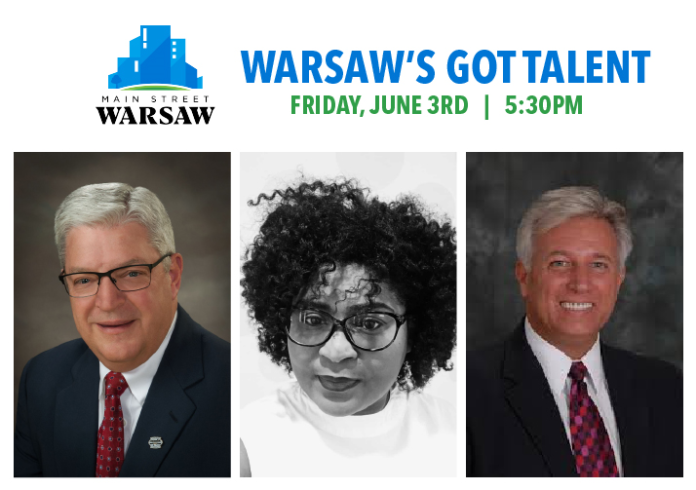 Main Street Warsaw is excited to host Warsaw's Got Talent during First Friday on June 3 in downtown Warsaw with Kensington Digital Media.
The talent competition will begin at 5:30 p.m. and will feature groups and individuals performing their talents. The acts include singing, dancing, a comedian, a magician and more.
Warsaw's Got Talent will be judged by Mayor Joe Thallemer; Lakesha Green, executive director of Wagon Wheel Center for the Arts; and Glenn Hall, executive director of Kosciusko Home Care & Hospice.
Spectators are encouraged to bring lawn chairs if they wish to sit and watch the full show.
First Friday begins at 5 p.m. and will end at 8 p.m.
In addition to Warsaw's Got Talent, attendees will also be able to enjoy playing Pop Up Putt Putt, Hogs R Wild BBQ, a cruise-in including classic cars and the Blood Bought Bikers Motorcycle Club, homemade ice cream, Jubilee Meadow Farm petting farm, dozens of local vendors, and food outside from downtown restaurants.
For updates and additional information on First Friday or to enter the Warsaw's Got Talent competition, contact Main Street Warsaw at mainstreet@kchamber.com or follow the First Friday Warsaw by Main Street Warsaw Facebook page.
First Friday is sponsored by Main Street Warsaw, Kensington Digital Media and the Dr. Dane and Mary Louise Miller Foundation.