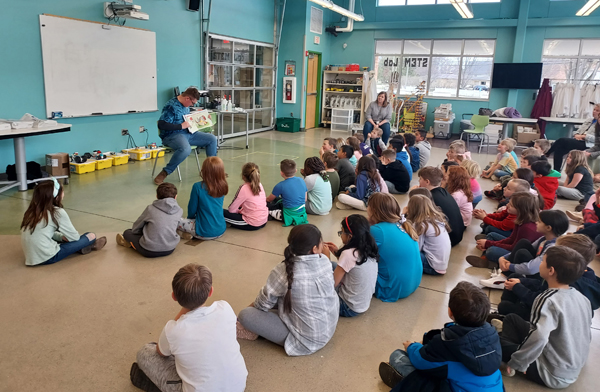 Second-graders in elementary schools throughout the county participated in an event Tuesday that sought to encourage literacy.
"Members of Kosciusko Endowment Youth Services (KEYS), the Kosciusko County Community Foundation's youth philanthropy program, see to encourage literacy by visiting second-graders during Read Across Kosciusko County (RAKC). 2022 marks the 18th anniversary of this literacy program. Unfortunately, because of no programs in 2020 and 2021, this will only be the 16th year," according to a news release from Kosciusko County Community Foundation Inc.
The event included 20 KEYS members, 32 adult volunteers, 16 elementary schools, 44 classrooms, nearly 1,000 second-graders and over 1,100 books for students and schools.
KEYS members are students in eighth through 12th grades from four school corporations: Lakeland Christian Academy, Tippecanoe Valley, Warsaw and Wawasee.
During the RAKC event, KEYS students and adult volunteers visited all Kosciusko County elementary schools and read a book to second-grade students. The same book was read simultaneously and each classroom received a copy of the book.
Also, each second-grade student was given a different book to take home.
At Washington STEM Academy, Ben Reust, KEYS member and Warsaw Community High School student, read "Clifford, the Big Red Dog." He said the second-graders received a "Henry and Mudge" book at the end.
Derek Pike, STEM instructional coach at Washington, said three second-grade classes participated during Tuesday's event.
Reust said the RAKC event can be very inspirational for second-graders and it could possibly help in their desire to read more.
Criss Corson, second-grade teacher at Washington, said she thinks it's a great opportunity for the students to hear a story, but also hear it from an outside source.
"Any time we can promote reading is going to benefit (the students)," she said.
Pike said sometimes students think reading is only at school for learning. He said he thinks the elementary students seeing an older student reading at the second-graders' level helps in the importance of reading at all levels.