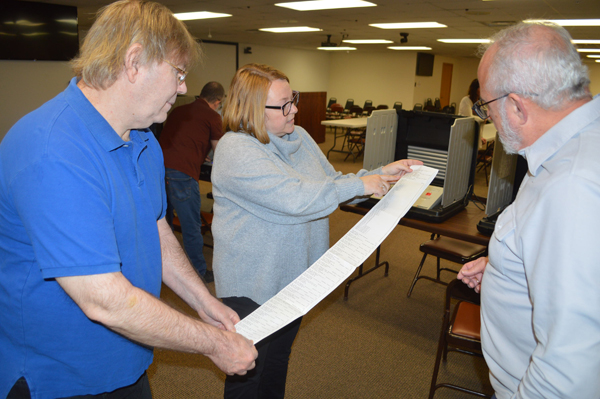 Tuesday morning's public test of the direct record electronic and optical scan equipment to be used during the May 3 primary election went well.
"Everything went really well. Tallying went completely well. Our encoders worked, which is our new things for our poll pads, so everything ran smoothly in the tabulation process and on the machines," Kosciusko County Clerk Ann Torpy said afterward. "We're ready."
The voting and tabulation equipment tests took place in the Kosciusko County Justice Building for almost two hours, beginning at 9:30 a.m. While the primary isn't until May 3, early voting begins in a week, April 5, and the public testing of the equipment has to be completed by Monday, April 4, with a verification form sent to the Indiana secretary of state. If the county didn't do the test, it would have to go to paper ballots.
Before the public test, Torpy explained what was going to take place and why. She said the purpose of the public test was to "make sure that the machines are functioning and that they are in good working condition and then that the voting system tabulates the votes that we have predetermined."
For the testing, she said they created a test deck and the Kosciusko County Election Board cast votes – based on the predetermined votes they had – on the machines. The votes were then tabulated.
As part of the tabulation, Torpy said they had a test deck for the mail-outs. "When people vote by mail, they vote on a ballot card, so we have a predetermined ballot card deck made." The test votes made on the machines and the predetermined ballot cards were totaled to make sure they were tabulated correctly by the equipment.
As part of the testing, they tried to see if the machines would let them vote for two people when it said vote for only one. It would not allow overvoting during Tuesday's test.
"Today, since we went to Poll Pads 2020, and now what we're doing is using – they're called encoders – and what it does is it encodes the voter's information and ballot on the blue vote card that we use. And so when we put it in the machine, we don't have to flip through 64 precincts. It will pull up that voter's ballot, and then the judges in the polling location walk away. So, we're going to test that, too, today just to make sure the County Election Board sees how it works, because they haven't seen that yet, and that it works with our system," Torpy explained.
The Election Board includes Randy Girod for the Republicans and Bill Morton for the Democratic Party. As Morton was unable to attend the testing Tuesday, Jack Brunetto filled in for him.
Only 5% of the voting machines had to be tested.
"There's a program called VSTOP (Voting System Technical Oversight Program), and that's set up by the secretary of state, along with Ball State University. So Ball State University, that group, will select 5% random machines that we have to test. And we have to follow the pre-test deck that we've created on those 11 machines. We're not testing all of them, but 5%," Torpy said.
Previously, she said the county could randomly pick three precincts and test the machines for those three precincts. Now, the state says it's going to randomly pick 5% of each county's machines to test.
The May primary is the first time election in which Kosciusko County has made use of vote centers where a Kosciusko County registered voter can vote at any polling location in the county. That allows the county to use less voting machines, about 20 less, but Torpy said they're still sending out a number of them because they don't know where the largest voter turnouts will be at the vote centers.
"We want to be prepared, and then we'll reduce it down if we need to," she said.
Girod said it's a learning process for the Election Board so they're using more than they'll need at this time.
"Better to be safe than sorry," he said.
The county is also able to reduce the number of poll workers needed with the vote centers by going from 61 voting precincts in a typical election, each with its own poll board of five to seven workers, to 21.
No machine had any issues during Tuesday's test. However, if there had been a malfunction of some kind, Torpy said they would have worked with Microvote to figure out what had happened. "If it's just on that machine, we pull that machine out from the election and program another machine for that purpose, to replace it, and test that one," Torpy said.
State law requires that the machines be tested before every election.
"It's gotten a little more detailed over time, but, yes, we do this every election," Torpy said.
She said the equipment testing is not something new to the state. It's something that has been done since at least 1996.
"They have to test everything. Even when we had the ballot card voting system, we had to run a test deck to make sure it tallied and it worked," she said. "There was always something we had to test to make sure our systems were calculating and tabulating properly, and these machines are recording votes properly, it's what the purpose of this is today."
She said many people don't know that the voting equipment is tested before every election. Once they hear about the testing, she said, they "relax a little."
Along with early voting beginning Tuesday, April 5, an early vote center will be opened at the North Webster Community Center from 8 a.m. to 3 p.m. April 23 and 30. Anyone can go there during that time to vote.