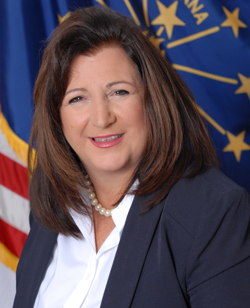 Kimberly Cates loves working for the county.
"I really enjoy being able to help resolve issues, help solve problems and being in a situation where I'm on a team where we're working to (solve problems)," she said in an interview Thursday on why she is seeking re-election to the Kosciusko County Council District 1 seat.
She said it's really interesting for her to be involved and be part of a solution.
"We know we have all these obstacles. Basically, we just need to find solutions to overcome obstacles in our community, whether it's housing, or whether it's child care because we have that as a challenge," Cates said.
In 2017, Cates was selected through a caucus for one of the Council's three at-large seats after the death of Bob Sanders. She ran for re-election in 2020 but did not win one of the three at-large seats.
Cates was selected by a Republican caucus June 7, 2021, to finish out the term of District 1 Councilman Doug Heinisch, who resigned May 18, 2021, because of his work schedule. She was among four vying for the position.
Asked to highlight one thing that she was able to help accomplish while serving on the County Council, Cates said, "Our state legislative committee, which, because I am on the Council and I was blessed to be appointed to the state legislative committee, we have helped bring to light – it's taken almost seven years – what's called a dark box assessment issue. Which is a situation where if you have a Kmart or if you have a brand new Meijer, the new Meijer wants to be assessed the same as the old Kmart. Maybe in a not-as-nice neighborhood or something like that. So we have counties paying hundreds of thousands of dollars. We have one almost, in our state, that paid a million dollars fighting this because, what was happening also, the way our statutes read, that, say you win one year, well, they can go ahead and apply next year to basically fight you again."
She said there are some other assessment issues going on now, too.
"Another one, and I'm very thankful that (state Sen. Ryan) Mishler is concerned with our area, but one of the things that he authored was the district TIFs, it's SB 361, and he wants to allow the state to come in and take by eminent domain an acreage, a 100, a 1,000, whatever," Cates said.
She said that while the deal is "excellent," in the legislation itself, as it stands, "there's no local input. They can just come in and do it, make it a TIF, so that's one thing. No local input – county, commissioners, towns, nothing."
Secondly, she said, "when you have a TIF district, all the extra money after you've developed it goes to that unit that developed it. All that extra money, instead of going to the county or the city, would go to the state."
During the legislative review session Friday hosted by the Kosciusko Chamber of Commerce, Mishler responded to a question about SB 361, where the money goes and local involvement.
Mishler said, "First of all, there's two ways to do one of these development districts. One, the locals can apply for it. And so, if a community applies to have one, then there's a process they go through. But, the other point would be correct – so if a state wants to do one, they can. Now, they can't go over an existing TIF. They capture all the state money – the sales tax, the income tax and they also capture the property tax. And so, that would be the case."
In the bill, Mishler said, 10% can be given back to the locals. "And it's just the growth, so they're not taking anything away. It would lock in that day. The locals would still get that, any money that they're getting from it now, and it would be the growth of that district, so, yes, that would go to the state."
He said they're trying to work with some locals on the bill.
Cates said there are many things going on that affect the county financially.
"And I think most people don't understand that, if you're not really paying attention, and trying to fight for not having the county lose money, for lack of a better word," she said, that could be negative for the county.
"We have a really pretty good Council that we're trying to work together to be frugal," she said. "But, outside of that, we need to also make sure that there's no legislation coming down the pipe that's going to take that money away and affect us in a negative way."
Before serving on the County Council, Cates served on the Turkey Creek Township Advisory Board for six years, the Turkey Creek Township Fire Territory Advisory Board as president for six years and other local, statewide and international boards of directors and committees, according to a news release she provided. She has been a delegate to the Indiana State Republican Convention six times and has filed for the upcoming year. She has served as a Republican precinct chair for over 13 years, and was elected as one of six at-large delegates representing Indiana at the National Federation of Republican Women's Convention in 2019.
Her professional background is in business management, over 35 years in taxes and 20 years in marketing.
According to her news release, Cates "believes in small, frugal government with local control. With over 30 years of small business ownership and local government experience," she is a "proponent of less government regulation and brings a business perspective along with conservative values" to the Council.
Council members need to be willing to spend time outside of the monthly meetings to research, meet with department heads, business leaders, constituents and listen, attend economic-related meetings and make tough fiscal choices, her release states.
It also states the county needs someone who will represent all people in the county, not just a particular group or organization.
"Families, education, infrastructure, economic stability, along with less government control are high on Cates' priority list," according to the release.
She is pro-life and has served on the area's Opioid Crisis "Call to Action" Committee and other nonprofit boards. She is an advocate and supporter of the Jail Chemical Addiction Program in Kosciusko County.
As a member of the Kosciusko Economic Development Corporation team, Cates said she works with employers, educators, farmers and institutions to help qualify citizens for local positions. "Working together with other elected officials and business owners to support job skills training and education geared to benefit rapid job placement is an urgent task that will benefit both individuals and businesses," her release states.
Cates is a life member of the National Rifle Association and supports first responders, the release states.