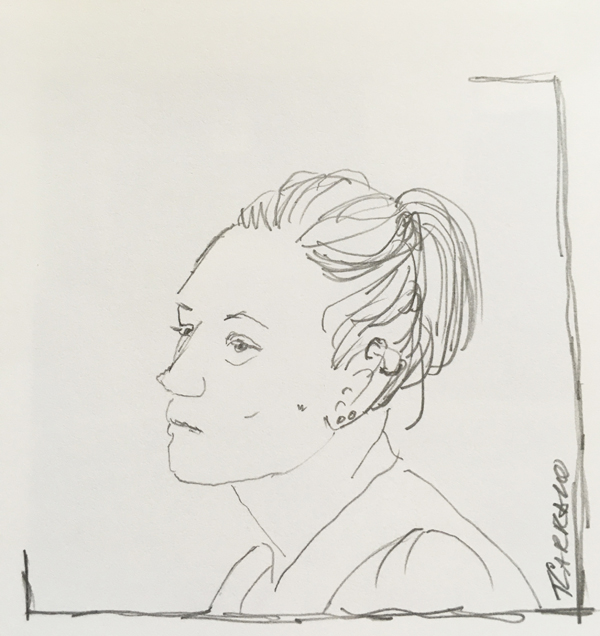 Courtney Kincaid, 30, was found guilty of all charges Friday by a jury of 12 people in the death of 11-month-old Emma Grace Leeman, of Pierceton.
Kincaid was convicted of aggravated battery, a Level 1 felony; neglect of a dependant resulting in death, a Level 1 felony; and battery resulting in death to a person less than 14 years old, a Level 2 felony.
She will be sentenced at 9 a.m. Aug. 27 by Whitley Circuit Court Judge Matthew Rentschler. She faces 110 years in prison.
Kincaid was remanded to the custody of the Whitley County sheriff.
Friday's court proceedings began with Rentschler ruling the testimony from Whitley County Department of Child Services caseworker Chelsea Vance was not enough to constitute a mistrial as requested by Kincaid's attorneys Thursday.
Further testimony continued Friday with Alan Hirsch, a professor at Williams College in Massachusetts who writes scholarly opinions about false confessions and interrogation tactics used by law enforcement.
Hirsch said the Reid Technique uses two pillars for interrogation. The first being confrontation, the second minimization.
"So with (those) they are designed to convince the subject of two things," Hirsch said. "One, maintaining innocence is futile, and it will get you nowhere. Two, if you confess, things won't be that bad. It be will the way to escape this awful situation. Anyone who believes those two things would be very tempted to confess and might very well do it even if they didn't commit the crime."
Jurors then heard testimony from Kincaid Friday about what she says happened to Emma Grace Leeman on April 12, 2018.
She said the she spoke with police anytime they asked because she wanted to help them find out what happened. She said she doesn't know why she failed the polygraph exam other than maybe some anxiety issues were at play. And she said she didn't tell her mother or her husband about the investigation because she didn't want to burden them.
Then why tell law enforcement five different stories??
"I still wanted to help them figure out what they needed to figure out with the investigation," Kincaid said. "I wanted so badly to know what happened to her and I thought about it so much that I would have repeated dreams over and over and over about the day that Emma was hurt, and it would always end up with that 911 call, and leading up to that 911 call these dreams would be so different … and they included me taking her out on the patio and the dog knocking her down and that's where those did come from."
"How do you explain the massive skull fracture? How?" Whitley County Prosecuting Attorney D.J. Sigler asked her. "For two years, all we've asked for is for the truth, for you to tell us the truth about what happened to that little girl. Why can't you tell the truth?"
"I cannot answer as to why she has her injuries that she ended up with," Kincaid said.
"You won't answer," Sigler said. "… You can, for the first time, own what you've done. You can own what you've done. You can make peace with Nick and Sherry (Emma Grace's parents). You can make peace with yourself. You can. It's still possible. In front of this jury, in this courthouse, right now. Why did you hurt Emma?"
"I did not hurt her," Kincaid said.
"Then I guess we'll just have to go with baseball bats, motor vehicle accidents and massive skull fractures," Sigler said.
Both Indiana State Police Det. Andrew Mills and Whitley County Sheriff's Dept. Det. William Brice testified they did not employ the Reid interrogation technique with Kincaid during their investigation.
Closing Arguments
"She still hasn't told the truth," Sigler said in his closing arguments. He said she's told five lies, five doctors testified that the injury inflicted upon Emma Grace was violent, immediate and caused her death and that Kincaid was the only adult present at the time.
"When are we gonna get the damn truth? The dreams made me do it," Sigler said. "We've got to find the damn truth about what happened to this child. … She still doesn't give a rip about what happened to Emma Grace, because if she did, she'd tell the damn truth. Homicide. The killing of another human being. This is the medicine. This is the science. It's time for some truth today."
Zach Baber, Kincaid's attorney, told jurors at the end of the trial if they believe, "Well, it's highly probable that Courtney did these acts," that it's not enough to convict her.
Baber zoned in on Hirsch's testimony and the Reid interrogation tactics he alleges were used with his client.
"Constant and unrelenting confrontation and minimization led to Courtney changing her story several times," Baber said. "How many times can you keep saying the same story and be called a liar over and over again before giving up?"
Baber said there are three reasons why the jury should not convict Kincaid. The first being that testimony from the radiologist said Emma's injury was four to eight hours before the radiology scan at 1:40 p.m. that, making that range of injury time possible from 5:20 a.m. and 9:20 a.m. Baber said that since Emma was dropped off at Kincaid's home at 7 a.m., there was an hour and 40 minutes where Emma was in the care of her parents and maybe something happened with them.
Baber also said his client isn't the type of person who would do something like this, and furthermore if she would have bashed a baby's head on a floor that caused this severe of an injury, don't they think the 4-year-old boy she was babysitting at the time would have heard or seen something??
"Why didn't we hear from him?" Baber said. "Courtney did everything an innocent person would have done. … Courtney called the police. Called Emma's mom. Called Emma's dad. … Courtney went to the hospital. Courtney never lawyered up before being charged. She consented to every search, even of her phone. … Courtney consented to every interview, even the polygraph. She even told Det. Brice that she'd be willing to take a stipulated polygraph whenever he wanted. Do guilty people take stipulated polygraphs without talking to a lawyer? Do guilty people sign documents without talking to a lawyer? No! … Innocent people talk to the police. Guilty people lawyer up. … When there is a death, especially of a child, the hardest thing to say is, 'I don't know what happened.' It is easy to say that Courtney caused the death. People want closures. People want answers. People want vengeance."
Baber said that it took 262 days from the state receiving the autopsy report until they charged her with a crime and that no new information came to light during that time. He said the state had no case unless they coerced a false confession out of her.
"I'll tell you why it took so long to charge," Sigler said. "Because we were working. You point your finger at a person for killing a child, you best know what you're talking about, and I know what I'm talking about. This is the depths that we have sunk to in this case. The dreams made me do it, and Nick and Sherry Leeman killed their kid. Do any of you think that's remotely possible? Do you want to know why Courtney Kincaid was so open and eager to talk to police? Because the guilt of killing Emma Grace Leeman was eating her up, and she was looking for any way to roll that stone off her chest."